UK ticket-holder £46m Euromillions win claim made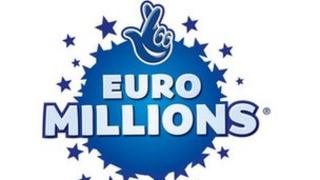 A UK ticket-holder who won £46.4m in the Euromillions lottery has come forward, operator Camelot has revealed.
A National Lottery spokeswoman said a claim had been staked for the jackpot prize and, subject to validation, it could be paid out on Monday.
She said it was "unbelievable" that this was the third time a UK ticket-holder had won the jackpot in 2012.
The winning numbers from Friday's draw were 3, 7, 12, 26 and 34, while the Lucky Star numbers were 8 and 10.
Two couples from Nottinghamshire have won over £40m in the past five weeks.
Cassey Carrington and Matt Topham, both aged 22 and from Stapleford, Nottinghamshire, won £45m with a Lucky Dip ticket on 7 February.
They said top of their shopping list was a new computer and washing machine as their old ones had broken within minutes of each other on the morning of the draw.
Gareth and Catherine Bull, from Mansfield, won £40m in the EuroMillions draw on 20 January.
Mr Bull, 40, said he bought his Lucky Dip ticket on a whim when he could not start a building job because of the wet weather.
A National Lottery spokeswoman said: "It's unbelievable that we have had a third huge Euromillions win here in the UK... so the UK is clearly enjoying a run of amazing luck.
"We have plenty of champagne on ice and look forward to welcoming the lucky ticket-holder into The National Lottery millionaires' club."
The UK's biggest Euromillions prize was a £161m jackpot won by Colin and Chris Weir, from Largs, Ayrshire, in 2011.
Nine countries - the UK, the Republic of Ireland, Spain, Portugal, France, Belgium, Luxembourg, Switzerland and Austria - participate in Euromillions, with ticket sales from all of them going into the jackpot fund.