Burger King leaves work experience scheme for jobless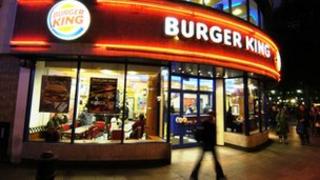 Fast-food chain Burger King has become the latest firm to pull out of the government's controversial work experience scheme for jobless people.
It said it had registered to take on youngsters at its Slough headquarters but withdrew due to "public concerns".
Critics say the project is a form of "slave labour" because people work for nothing, while keeping their benefits.
The government said those campaigning against it should think carefully about the consequences of their actions.
Burger King said it registered for the voluntary Get Britain Working programme six weeks ago, but had not recruited anyone since.
"Given the recent concerns expressed by the public we have decided to no longer have any involvement in the programme," it said in a statement.
'Some commitment'
Participants continue to receive jobseeker's allowance (JSA) and may receive a contribution to travel or childcare costs.
But anyone who cuts a placement short after more than a week may have their benefits stopped for two weeks.
Tesco has offered to pay people on the scheme and asked ministers to remove the threat of benefit sanctions.
Rival supermarket Sainsbury's said the small number of its stores that took part in the scheme had since ceased participation, as it was not company policy.
Fashion chain Matalan said it had suspended its involvement pending a review and book seller Waterstones and electrical retailer Maplin have already left.
But Employment Minister Chris Grayling defended the scheme, saying half of those who joined had found a job, often with the company that placed them on work experience.
"All of the evidence we can see is that this does better than simply leaving people on JSA, it actually helps more young people get into work.
"I don't accept that the scale of the campaign is very large, it's a small number of activists who are deliberately targeting these companies and trying to destabilise them," he said.
Conservative MP George Eustice said companies considering leaving the scheme should not bow to public pressure.
"The truth is that the first step to getting a job and getting back into the jobs market is having some work experience and learning to work and turning up for work on time and being part of a relied on team," he said.
"And so I think this scheme's incredibly important. It's only for a few weeks. It's not slave labour or anything like that and I think that if it's to work... you do need them to show some commitment."
The programme is aimed at 16- to 24-year-olds unemployed for more than three months, but less than nine.
Participants have an unpaid placement for two to eight weeks, working 25 to 30 hours a week.