Two men bailed over computer-hacking probe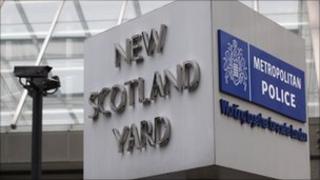 Two men arrested as part of Scotland Yard's investigation into computer hacking have been released on bail.
Officers from Operation Tuleta detained a 50-year-old man at his home in Hertfordshire, and a 51-year-old man at a Surrey address, on Friday.
The men, who were held in separate London police stations, have been bailed until June and July.
Operation Tuleta covers privacy intrusions including computer misuse.
It is running alongside the Operation Weeting probe into phone hacking, and the Operation Elveden investigation of alleged corrupt payments to police and public servants by journalists.
These are the second and third arrests as part of Tuleta investigations.
They relate to suspected offences under the Computer Misuse Act 1990 and Regulation of Investigatory Powers Act 2000.
The men are not believed to be journalists or police officers.
Scotland Yard said the arrests were not directly linked to any news organisation or the activities of journalists.
The Hertfordshire arrest took place at about 07:30 GMT on Friday, and the detained man was held in a west London police station. The later arrest took place at about 16:15 GMT on Friday, and the man was held in south-west London.
Confidential records
Deputy Assistant Commissioner Sue Akers has said Operation Tuleta is looking into "allegations that private investigators hacked into computers for private information on behalf of journalists".
There were 57 separate allegations of data intrusion - computer hacking, and hacking of medical and other confidential records - being investigated, Ms Akers said.
Some related to Met Police inquiries going back as far as the late-1980s, she told the Leveson Inquiry into media ethics.
Last November, a 52-year-old man was detained in Milton Keynes in the first arrest by Tuleta investigators.
A total of 38 people have now been arrested as part of the three linked inquiries.
Thirty-four remain on police bail, while two were released without further action.