Emma Harrison quits as chairman of A4e welfare-to-work firm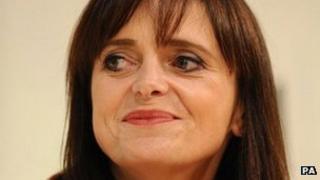 Emma Harrison has stepped down as chairman of her welfare-to-work firm A4e, she has said in a statement.
It comes a day after she quit her role as the government's "family champion" amid a police probe into irregularities at the Slough-based company.
As part of its work, A4e handles millions of pounds worth of government contracts for welfare-to-work schemes.
Meanwhile A4e announced an independent audit of its procedures in a bid to reduce "speculation and uncertainty".
Its chief executive Andrew Dutton said he had commissioned global legal firm White & Case LLP to review the company's procedures and controls following several negative media reports.
The announcements come just hours after Employment Minister Chris Grayling claimed some activists were trying to "destabilise" firms involved in a controversial unpaid work experience scheme.
'Tough decision'
In the statement, Ms Harrison, who is also one of the company's five shareholders, said: "This has been a very tough decision for me, as I have spent my entire 25-year career building up this business and I believe so strongly in the importance of the work it does.
"But it is precisely because this work is so important that I do not want the continuing media focus on me to be any distraction for A4e, for its more than 3,500 employees, and for the tens of thousands of people across the UK and globally that look to this company to give them hope of finding employment."
On Wednesday it was revealed former workers at the company - two women, aged 28 and 49 and two men, aged 35 and 41 - were arrested last month on suspicion of fraud and bailed until mid-March.
A4e said the alleged case dated back to 2010 and had been uncovered by its own internal investigation.
£11m dividends
There currently remains two police investigations into allegations of fraud linked to the company, although the latter probe is believed to involve a subcontractor.
Mr Dutton paid tribute to Ms Harrison and said she was "devastated" to be leaving.
He added: "A4e would not exist but for the passion and ambition of Emma Harrison, who has helped improve the lives of thousands of people, and has been an inspiration to all our staff and customers for more than 25 years."
He said the audit he had ordered would be in collaboration with the Department for Work and Pensions (DWP) and other organisations which fund the company.
In a statement, the DWP said that it welcomed Mr Dutton's decision to carry out the audit but how A4e was run was up to the company.
It said: "Anything that ensures increased transparency in relation to their government contracts is to be welcomed."
'Value for money'
Labour's shadow work and pensions secretary Liam Byrne said Ms Harrison had "done the right thing" but called on the prime minister to reveal if he knew of the fraud allegations when he hired Ms Harrison.
He added: "The government's work programme is in enough trouble without accusations of dodgy contracts under investigation.
The DWP and the police must now move fast to get to the bottom of some very serious allegations of fraud."
Margaret Hodge, Labour chairman of the Commons Public Accounts Committee, said questions still remained despite Ms Harrison's decision to step down.
Ms Hodge has been at the forefront of criticism of the company after it was revealed that its shareholders were paid £11m in dividends while all of its £160m-£180m UK turnover last year came from government contracts.
She welcomed the news that A4e had appointed the legal firm to carry out the audit, adding that her committee's criticisms of the firm had never been about individuals, but about whether the company offered the taxpayer value for money.
A4e started in South Yorkshire more than 20 years ago to provide retraining to large numbers of Sheffield steelworkers who became redundant when the industry started to decline.
Ms Harrison stepped back from her government role late on Thursday. The prime minister, who had appointed her to the position in 2010, thanked her for her work.