Drought conditions in England 'set to widen'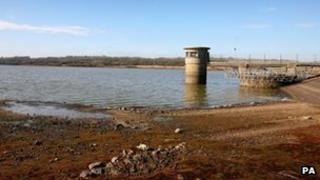 Ongoing dry weather over the spring and summer threatens to place more areas of England in a state of drought, the Environment Agency (EA) has warned.
It singled out parts of western, central and south western England and parts of south east Yorkshire.
The agency said time was running out for rain to restore groundwater levels before the new growing season begins.
Earlier this week the South East joined most of East Anglia in a state of official drought.
In parts of south-east England groundwater levels are lower than in the infamously dry summer of 1976.
'Distressed fish'
Areas affected include Hampshire, East and West Sussex, Kent, Surrey, Berkshire, London, Hertfordshire, Buckinghamshire, Oxfordshire and east Gloucestershire.
The EA said eastern parts of England had received just 27% of the average rainfall expected in February so far this month.
Fish are reported to have died and been distressed by low river flows, including the River Meon in Hampshire, it added.
The conditions have raised the possibility of a hosepipe ban in the coming weeks and follow two dry winters in a row.
Helen Vale, EA's national drought co-ordinator, said: "We are working with businesses, farmers and water companies to plan ahead to meet the challenges of a continued drought."