'Family champion' Emma Harrison steps down from role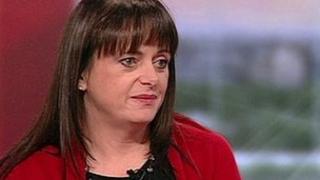 Entrepreneur Emma Harrison has stepped down as the government's "family champion" amid a police probe into irregularities at her company A4e.
As part of its work, A4e handles millions of pounds worth of government contracts for welfare-to-work schemes.
Her decision comes after four ex-members of staff of A4e were arrested on suspicion of fraud at the company.
A spokesman for Prime Minister David Cameron said he respected the decision and thanked Ms Harrison for her work.
In a statement, Ms Harrison said she did not want the probe to distract from the government's attempts to help unemployed people.
She said: "I have asked to step aside from my voluntary role as family champion as I do not want the current media environment to distract from the very important work with troubled families," she said in a statement.
"I remain passionate about helping troubled families and I am grateful for the opportunity to contribute in an area where I have been active for many years."
Fraud investigations
David Cameron appointed Ms Harrison to the role in 2010.
On Thursday, after Ms Harrison revealed her decision, his spokesman said he "thanked her for all her work up to now".
Labour's shadow work and pensions secretary Liam Byrne MP said she had "done the right thing".
He added: "But this is not the end - it's the start of the real questions about the government's back to work contracts which are costing millions but are simply not getting enough people into jobs."
Meanwhile Margaret Hodge, Labour chairman of the Commons Public Accounts Committee, told BBC Radio 4's PM programme that all A4e's welfare-to-work contracts should be suspended until the fraud investigation is completed.
On Wednesday it was revealed former workers at the company - two women, aged 28 and 49 and two men, aged 35 and 41 - were arrested last month and bailed until mid-March.
The government said then it understood the investigation into A4e's offices in Slough, Berkshire, did not relate to its Work Programme, which helps the jobless find employment.
A4e said the alleged fraud dated back to 2010 and had been uncovered by its own internal investigation.
A4e had referred a total of nine cases of possible irregularities to the Department of Work and Pensions.
The company said the DWP cleared all but but the two remaining cases of possible malpractice.
'Excessive amounts'
The second police investigation reportedly involves a subcontractor of the company.
There are now two police investigations into the allegations of fraud.
Mr Cameron has told Parliament there needs to be a "thorough investigation" into what happened.
"It needs to get to the truth and then we can take into account its findings."
Mrs Hodge has been at the forefront of criticism of A4e because of its "abysmal" delivery of a previous Pathway to Work scheme.
She has said that the amounts the company's five shareholders were paid were "excessive" as all of its £160m-£180m UK turnover last year came from government contracts.
The shareholders were paid £11m in dividends in that period. Ms Harrison, who is one of the five, received 87% of this, the public affairs committee heard this month.
A4e started in South Yorkshire more than 20 years ago to provide retraining to large numbers of Sheffield steelworkers who became redundant when the industry started to decline.