Migrations figures remain steady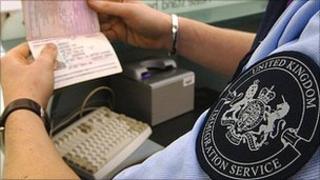 Net migration to Britain remained steady at 250,000 in the year to last June, according to figures released on Thursday.
The figures from the Office for National Statistics (ONS), showed an increase from 235,000 in June 2010 but a fall from 255,000 in September 2010.
The government has promised to cut net migration by 2015.
Long-term immigration of New Commonwealth citizens reached 170,000, two-thirds of whom came to study.
The number of people leaving the UK has come down from a peak of 427,000 in 2008 to 343,000.
Immigration Minister Damian Green said: "Our reforms are starting to take effect. Home Office figures from the second half of last year show a significant decrease in the number of student and work visas issued, an early indicator for the long term direction of net migration.
"Net migration remains too high, but is now steady, having fallen from a recent peak in the year to September 2010.
"This government remains committed to bringing net migration down from the hundreds of thousands to the tens of thousands over the course of the Parliament."
The Home Office said the figures cover just one year of the coalition government and before the biggest changes to immigration had been brought in.
Asylum applications rose 11% to 19,804, compared with 17,916 in 2010, according to separate figures from the Home Office.
The figures for every quarter last year were higher than 12 months earlier, due to an increasing number of applications from Libya, Iran and Pakistan.
Meanwhile the number of asylum seekers removed or departing voluntarily from the UK fell 13% to 52,526, from 60,244 during 2010.
Sir Andrew Green, Chairman of Migration Watch UK, said: "These figures are disappointing.
"They show that the immigration super tanker has been brought to a halt but massive efforts by the government will be essential if their manifesto promise is to be kept. For example, the student visa system, which admits half a million non-EU students a year, needs a much more effective means of testing whether the applicants are genuine and intend to return home."
Earlier this week Home Secretary Theresa May said the UK Border Agency would be split in two following revelations that hundreds of thousands of people were let into the country without appropriate checks.
She told MPs the UK Border Force would become a separate law-enforcement body with its own distinctive "ethos".