Call for Dignity Code to protect elderly patients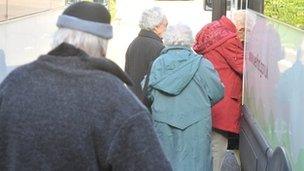 Nurses and care workers should sign a Dignity Code guaranteeing that elderly patients are treated with respect, say a group of politicians and charities.
The letter claims pensioners are too often patronised, humiliated, denied privacy or even medical treatment.
It follows several scandals involving the treatment of elderly people.
Around 400,000 people in England live in care homes and another two million elderly people need occasional help from carers and nurses.
The letter's signatories include the heads of Age UK, the Royal College of Nursing, the TUC and the care regulator, the Care Quality Commission.
They want the Dignity Code guidelines - drawn up by the National Pensioners' Convention - to be written into the contracts of NHS nurses and care workers.
They write: "For too long, too many of those people have been ignored, denied the basic right to speak for themselves or make up their own mind.
"In this era of human rights, too many older people have seen their basic human dignity undermined in situations where they are treated as objects rather than people."
The letter urges hospitals, care homes and other institutions to agree a set of common standards of care to protect the elderly.
Earlier this month a committee of MPs warned that elderly people were being "passed like parcels" between different agencies.
In December, Mr Burstow told the BBC the website was one of a number of plans to "shine a light on bad practice".