Newspaper review: Papers pan latest Greek bailout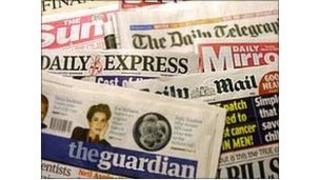 There is widespread agreement that the latest bailout for Greece will not work.
"The most expensive sticking plaster in the world" is theview of Guardian economics editor Larry Elliott.
TheDaily Telegraph uses the same sticking plaster analogy, and says that only by leaving the euro and through a devaluation can Greece save itself.
TheTimeshas a similar view, while acknowledging that leaving the euro will not in itself be the solution to Greece's problems.
Halfway house
TheFinancial Timessays Europe's leaders have proved they are unable to settle on a solution for Greece that will not have to be revisited.
The paper says the new bailout is a halfway house only.
"Only deluded optimists" expect the bailout to be the end of the matter,thinks the Daily Mirror.
TheIndependent believes what Greece really needs is economic growth, and calls on Europe to put together a Marshall-style investment plan.
Jump start
Several papers raise the prospect of tax cuts in next month's Budget.
TheDaily Mail says that with borrowing falling faster than expected, George Osborne could have a "£10bn war chest" by the time he makes his Budget speech.
TheSun says ordinarily it would not suggest spending any spare cashwhen you are up to your neck in debt, but the economy needs a jump start.
The paper calls for a cut in fuel duty and a tax break to encourage firms to hire staff.
Kate effect
TheDaily Telegraph says the Duchess of Cambridge has cemented her reputation for thriftby wearing a half-price dress during engagements on Tuesday.
The bird-print design by the High Street brand Orla Kiely was reduced from £325 to £162.50 in the sales.
TheDaily Mirrorsays the "Kate effect" struck again with the dress selling out within minutes of her being seen in it.
TheDaily Express notes that with each official outinga new label gets a taste of her "till-ringing appeal".