Four ex-staff of government contractor A4e bailed in fraud probe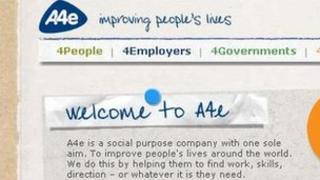 Four people have been arrested on suspicion of fraud at government contractor A4e, police have said.
The former staff - women aged 28 and 49 and two men, aged 35 and 41 - were held last month and bailed until mid-March.
As part of its work, A4e handles millions of pounds worth of government contracts for welfare-to-work schemes.
PM David Cameron told the Commons: "The investigation needs to be thorough, it needs to get to the truth and then we can take into account its findings."
The government said it understood the investigation into A4e's offices in Slough, Berkshire, did not relate to its Work Programme, which helps the jobless find employment.
A4e said the alleged fraud dated back to 2010 and had been uncovered by its own internal investigation.
Thames Valley Police visited the firm's offices in Slough as part of their investigation on Friday after being alerted by the Department for Work and Pensions.
Global business
A4e chief executive Andrew Dutton said the company had "zero tolerance" towards fraud.
He said: "I will not sit by and let these accusations discredit the hard work that our staff do to support thousands of people into work.
"A4e has zero tolerance towards fraud and any instance of fraudulent or otherwise illegal activity is completely unacceptable.
"We take our responsibility very seriously and we are committed to using taxpayers' money effectively and efficiently to deliver the best services to the public."
A4e employs 3,500 people in the UK and abroad, and has more than 250 offices.
The company said in a statement: "This incident relates to four people, so we are dealing with a very small number of individuals."
A4e said three of the staff had been suspended when the allegations were first made and one had already left, but all four had now left.
A police spokesman said: "As part of the investigation, four people... were arrested on suspicion of fraud on 18 January from addresses across the Thames Valley.
"They have all been released on police bail until mid-March. The investigation is ongoing and at an early stage, therefore we are unable to comment further at this time."
Contractor fee
Labour MP Fiona Mactaggart told the Commons that since May 2010 A4e had won contracts from the Department for Work and Pensions worth £224m.
She added: "In view of the fact there are record numbers of unemployed people and that employees from this company have been arrested, what action are you taking to make sure neither vulnerable unemployed people nor the taxpayer are victims of fraud by A4e?"
Meanwhile, Margaret Hodge, Labour chairwoman of the Public Accounts Committee, has called on the government to suspend its welfare-to-work contracts with A4e until the investigation was complete.
Speaking at Prime Minister's Questions, Mr Cameron pledged a "thorough" investigation.
He said the allegations dated back to a scheme run under the previous Labour government, adding: "As I understand it was the company itself that raised the issue with the relevant authorities."
The government's main welfare-to-work scheme is the Work Programme.
Under the programme, contractors are paid a fee, usually £400, when a job centre refers an unemployed person to them. It is typically someone who has been looking for work for a year.
Further, larger payment can then be made when a person has been in sustainable employment for up to two years.
The harder the company has to work to find and keep someone in a job, the more money they get.
A4e was founded more than 20 years ago to retrain workers who had lost their jobs in the declining Sheffield steel industry, and still has its registered office in the city. It now works around the world.
A Department for Work and Pensions spokesman said: "Clearly we are unable to comment on any investigation but understand these are not matters that relate to the Work Programme."