BBC royal series The Diamond Queen biased, Republic says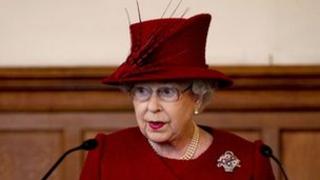 Anti-monarchy group Republic has accused the BBC of bias in its documentary series The Diamond Queen.
Chief executive Graham Smith said he had written to BBC Trust chairman Chris Patten listing "distortions, half-truths and fabrications" in the series.
"What was presented as a piece of biographical journalism was in fact pro-monarchy polemic," he said.
A BBC spokeswoman said: "The BBC abides by its requirement to be duly impartial across its output."
Mr Smith said Republic had called for an investigation into the programme broadcast earlier this month and challenged presenter Andrew Marr to an on-air debate about its content.
His letter accused the BBC of "misleading viewers, silencing dissenting voices and shielding our head of state from any genuine scrutiny".
Mr Smith said that the documentary was the "latest and most provocative example of a long-standing pattern of behaviour at the BBC in reporting on the monarchy". He said the "very obvious bias" could be seen across all its output, including TV, radio and online.
The bias, he said, had been "exacerbated" by this year's Diamond Jubilee.
"We'll do all we can to ensure the corporation adheres to its legal duty of impartiality, and stops silencing the quarter of the population who believe we'd be better off without the monarchy," Mr Smith said in a statement.
He said that Republic would hold protests at BBC locations to highlight the issue.
The BBC's agreement with the Department for Culture, Media and Sport states that it must do "all it can to ensure that controversial subjects are treated with due accuracy and impartiality in all relevant output".
The BBC Trust, which represents licence fee-payers' interests, said: "Editorial decisions are a matter for the BBC Executive and it would not be appropriate to comment on an individual complaint as it could later come to the Trust on appeal."