Olympic cycling charge at Box Hill 'could leave legacy'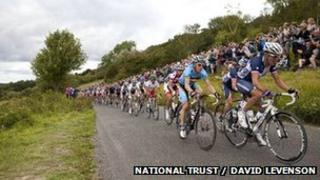 Charging to watch the Olympic cycle road racing at a Surrey beauty spot may have knock-on benefits for the area, according to local councillors.
London 2012 boss Paul Deighton said it was considering whether to charge for the 15,000 tickets being allocated to the prime viewing point at Box Hill.
The news has angered local people, but some members of Mole Valley Council said any profit should go to the area.
Councillor David Preedy said he also wanted free tickets for local children.
He said he wanted any profit ploughed back into the local community to ensure the Olympics leaves a legacy in the area.
"It isn't a good road for people to use, it is causing a lot of inconvenience for local residents... I think if [the London 2012 Organising Committee (Locog)] channelled the profits they made back into the local community, I think that would give an opportunity to build a local legacy that would be positive," he said.
Minimal charge 'preferable'
Neither Mr Preedy nor council leader James Friend opposes the principle of charging, which Locog has said it is considering for the managed viewing areas it is creating at the site.
But Mr Friend said a minimal charge to enable Locog to manage precise spectator numbers for the racing on 28 and 29 July would be preferable.
He said he doubted there would be any profit for the organisation to return to the community, but added: "I would like to see local residents get a fair proportion of those tickets."
Mr Deighton said the viewpoints at Box Hill would be better than those at the start and finish of the road race in The Mall.
"It would be perfectly appropriate, given all the facilities we put in place, to consider charging for the tickets," he said.
Work has begun to clear woodland scrub along the sides of Zig Zag Hill, National Trust-owned land where many of the spectators will be.
The trust said there should be benefits for wildlife as well as spectators.
It said it had handed over management of the area to Locog for the Games and was not involved in the charging decision.