London 2012: Olympic ticket ballot to be prioritised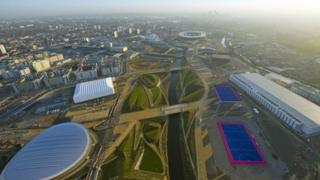 People who have so far failed to secure London 2012 tickets will be prioritised when the remaining tickets go on sale in April.
It is understood they will have 24 hours' priority access to buy tickets on a first-come-first-served basis.
London 2012 organisers said earlier they would be selling general admission Olympic Park tickets at Games-time.
The cost and number of tickets that will allow entry into the site in east London has not been decided.
People without tickets for sports events will be able to watch the action on large screens around the Park.
Seven million sold
Locog is still finalising the details of the sales process but is expected to stagger the sale of around one million Olympics tickets that were held back from the first two ballots.
It will release seats in batches of three to four sports each day to avoid a stampede for showcase events.
High demand earlier in the sales process caused the ticket website to crash.
"Around one million contingency tickets will go on sale to those who have previously applied for tickets - with priority given to those who have not been allocated any tickets so far," said a spokesman.
"These will go on sale from April, with specific sports made available on certain days giving a structured and clear process for everyone."
Reports suggest the number of tickets per buyer will be limited, and that once an applicant is successful they will not be allowed to purchase any more.
Some 1.5 million tickets for Olympic football and 1.5 million Paralympics tickets that remain unsold will also be available when the sales window opens in April.
Locog has resolved to raise a quarter of its £2bn budget through ticket sales.
The Games organisers have come in for heavy criticism for refusing to be more transparent about the ticketing process, but insist they will provide a complete breakdown once the process is completed - although they have refused to comment on when this will be.
Locog has said although 75% of the 8.8 million Olympic tickets would go on general sale to the British public, but it has not clarified how many were made available for showcase events.
More than half of the 1.9 million British people who applied for tickets in the first public ballot opted for the evening athletics session on 5 August, which includes the men's 100m final and the women's 400m final. More than two million applied for seats at the opening ceremony.
Locog has said some 29,000 tickets out of a total 80,000 (36%) were being made available to the public for these events.
Locog's chief executive, Paul Deighton, has previously said only 30-40% of tickets to the opening ceremony would be sold through the application process, with just as many tickets available at £20.12 as at £2,012.
But with seven million tickets sold so far, such breakdowns have not been provided for other major events, such as the track cycling, for which tickets are highly prized due to a combination of strong British medal prospects and the Velodrome's limited 6,000-seat capacity.
Vantage point
Locog said on Monday it was still working through how many tickets would be made available for Olympic Park access and how much they would cost.
Last week it emerged spectators may be charged to watch Olympic road cycling.
On Friday Mr Deighton revealed people may have to pay to watch the cycle race from the prime vantage point in Box Hill, Surrey.
The road race includes a 9.6-mile (15.5km) circuit around Box Hill before finishing in The Mall in London.
Locog has been granted permission to allow 15,000 spectators in the area around Box Hill for the men's and women's events on 28-29 July.
Mr Deighton said it would be "perfectly appropriate... to consider charging for the tickets" and they were still working out how this would be done.
There will be several large screens in the Olympic Park, the largest of which will be double-sided and floated on a barge in the River Lea which runs through the Park.
There will also be large screens in Hyde Park, central London, and Victoria Park in Tower Hamlets during Games-time.
Access to these screens will be free although places will be limited.
And in Hyde Park tickets will be sold for the showing of the opening and closing ceremonies of the Olympics on 27 July and 12 August.