Abu Qatada case: Home Secretary to visit Jordan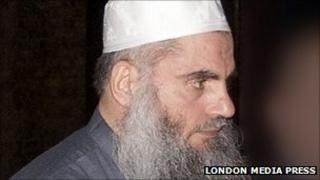 Home Secretary Theresa May is to travel to Jordan in an effort to strike a deal over the deportation of Abu Qatada.
The radical Palestinian-Jordanian preacher was released from a UK jail under strict bail conditions on Monday.
In a statement, Mrs May said she intended to continue talks which Home Office Minister James Brokenshire held earlier with Jordanian authorities.
She said the UK and Jordan were "pursuing all options with regards to his deportation".
Both countries were committed to ensuring Abu Qatada, 51, faced justice, she added, saying it was "my intention to travel back to continue those negotiations shortly".
The government has been seeking assurances that evidence gained through torture would not be used in any trial against Abu Qatada if he were sent back to Jordan, where he is wanted on terrorism charges.
The BBC understands the talks so far have been positive, but there is still no clarity on how long the process will take.
Ayman Odeh, the Jordanian legislative affairs minister, has said his country passed a constitutional amendment in September to ban the use of evidence obtained through torture.
But Prince El Hassan, the uncle of Jordan's King Abdullah, would not give the BBC an outright assurance on Thursday that the preacher would get a fair trial if he were sent back.
He would only say it was "illogical" to suggest he would not get a fair trial if extradited from the UK, and argued that the country had an independent judiciary.
He went on to call for the UK "to reach out to Jordan and take the necessary guarantees as a friendly country".
Abu Qatada, alleged to be a dangerous extremist, was freed from Long Lartin jail in Worcestershire on Monday.
A judge ended his six-year detention last week after the European Court of Human Rights (ECHR) blocked his deportation to Jordan.
The court said evidence obtained by torture might be used against him there.
He is now under strict bail conditions, including a 22-hour curfew that allows him to leave home only for a maximum of an hour, twice a day. He has also been electronically tagged.
The UK government must show significant progress towards deporting Abu Qatada within three months or his bail conditions could be lifted.
Abu Qatada was convicted in his absence in Jordan of alleged involvement in a plot to target Americans and Israeli tourists during the country's millennium celebrations.