London 2012: Olympic cycle road race fans may be charged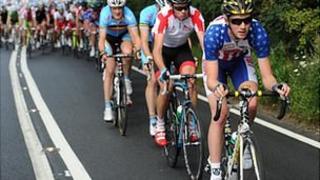 People may have to pay to stand on the roadside to watch the Olympic cycle road race, say Games organisers.
London 2012 chief executive Paul Deighton said spectators may be charged to watch the cycle race from the prime vantage point in Box Hill, Surrey.
The road race includes a 9.6-mile (15.5km) circuit around Box Hill before finishing in The Mall in London.
Mr Deighton told the BBC it would be "perfectly appropriate... to consider charging for the tickets".
The world's top riders will compete in the road race during the opening weekend of the Games.
Challenging environment
Locog has been granted permission to allow 15,000 spectators in the area around Box Hill for the men's and women's events on 28-29 July, and these places will be ticketed.
Mr Deighton said: "Box Hill is a challenging environment because it's highly protected. It's not the easiest place to watch things from or to control big crowds.
"It's a prime viewing slot, the men's race goes round it nine times; it's better, frankly, than being at the start and finish in the Mall."
He said that given the facilities that have been put in place by Locog, it was appropriate to consider charging for tickets.
"The issue we now have to work out is how we ticket that and whether or not we charge for those tickets. That will be the next stage," he said.
The cycling time trials on 1 August will begin and end at London's Hampton Court Palace and also take in parts of Surrey.
'Unreasonable demands'
Mr Deighton said Locog was on course to sell the remaining four million tickets for the London 2012.
He said: "We are absolutely on track to meet our commitment of getting 75% of the total tickets for the Olympic Games into the hands of the public."
Some 1.5 million Paralympic tickets and 1.5 million Olympic football tickets were still to be sold, he added, as well as one million non-football Olympic tickets which will go on sale in April.
A London Assembly report, released on Thursday, criticised Locog's refusal to provide a detailed breakdown of how many tickets have been sold at what price for each event.
The report committee chairwoman, Dee Doocey, said this "unnecessary secrecy" was jeopardising public confidence in the ticketing arrangements for the 2012 Olympics.
Responding to this, Mr Deighton said: "Once we've gone through all the sales process we will be in a position to show who has got what."
Backing Locog's stance, Olympics Minister Hugh Robertson said demands for immediate transparency over London 2012 ticket sales were "unreasonable".
He said there would be no pressure from the government on Locog to release details of that allocation before the ticketing process was complete.
"This is the middle of a very big, complicated ticketing operation, he said.
"I want to make sure... that that operation is completed successfully before we get onto the whole transparency of where it's gone.
"There is a time for that, but it is not now."