Price of diesel 'hits new record high'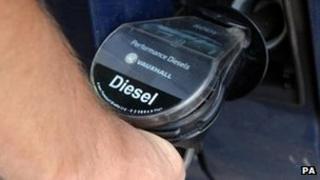 The price of diesel has hit a new high, at 143.05 pence a litre, figures have suggested.
The Retail Motor Industry (RMI) says the figures, from the analysts Experian Catalist, are a "disaster for motorists".
RMI Petrol Chairman Brian Madderson said it put the livelihoods of hundreds of fuel retailers at risk.
The previous high was 143.04p, in May 2011, at the height of the "Arab spring".
Motoring organisation the AA said the cost of filling up the tank of a commercial van with an 80-litre fuel tank had risen from £90 in February 2010 to £114.
Food price rise
It is thought the rise will have a knock-on effect on food prices.
On Thursday, Defra issued an update of its Food Statistics Pocketbook, which showed prices had risen by 25% since the start of the financial crisis in 2008.
Defra said on Friday the increase in real terms was actually 12%.
AA president Edmund King said of the diesel price hike: "The impact of record diesel prices will be felt by everyone as higher transport costs are passed on to business and consumers.
"With some delivery and haulage firms adding a diesel surcharge to invoices, costs will rise faster than most people expect and stoke inflation again."
Mr Madderson claimed a "perfect storm" of rising crude oil prices, closing refineries and pressure on supply, mean diesel and petrol prices could reach a new high by Easter.
Inflation for diesel is now almost double the Consumer Price Index of 3.6%.
Mr Madderson called on Chancellor George Osborne to cut tax on fuel in next month's Budget to "ease the pressure on motorists".
The AA has also written to Mr Osborne calling for an investigation of the fuel market "to ensure UK families and business are protected from over-inflated prices and supply difficulties".
It also wants a planned rise in August to be cancelled.
RAC spokesman John Franklin said: "The new record price of diesel shows the issue of rising fuel prices isn't going away. Drivers continue to be hit hard in their pockets during these tough economic times.
"With a further 3p-a-litre fuel duty rise planned in August, we hope the chancellor will take a look at this in the Budget."