Newspaper review: Scotland's future intrigues press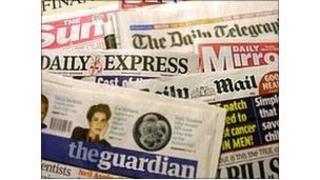 A number of newspapers focus on a meeting between Prime Minister David Cameron and Scotland's first minister, Alex Salmond.
The Timesdescribes it as a tense event, predicting "years of bitter wrangling" over Scotland's future.
The Independentfeatures a cartoon of Mr Cameron wearing a union flag kilt.
And the Daily Mail says Mr Camerontook a "dramatic gamble"by offering concessions to Scots if they voted "no" in a referendum over a breakaway.
'Black hole'
Chris Huhne's court appearance over allegations of perverting the course of justice appears on the front pages of theDaily Telegraphand the Guardian.
The Guardianuses a court sketch to illustrate the former energy secretary and his ex-wife's appearance before magistrates.
TheTelegraph reports the Ministry of Defenceis due to announce it has balanced its books for the first time in four decades.
The defence secretary will reveal a £38bn "black hole" has been dealt with.
'Fighter drones'
EU officials are set to draw up "unprecedented controls" on Greece's ability to spend money as part of its bailout,the Financial Times reports.
It says an account which always holds enough cash to pay Greece's debt for nine to 12 months will be stipulated.
TheIndependent says David Cameronand French President Nicholas Sarkozy are to meet later in Paris.
It says the two leaders will agree on plans to build a new generation of pilotless "fighter drone" aircraft.
Pie hunt
The Sun reportsa Health and Safety Executive inspector who was in India has lost a memory stick with details of a nuclear power station in Hartlepool.
The paper warns this "careless behaviour", which breaches security guidelines, could put lives at risk.
And finally, an answer to that question eternally posed by football terraces - who ate all the pies.The Daily Express reckons it may just be Tesco worker Helen Dwyer.
The paper says she "earns her crust" travelling up and down the country buying and eating pies in a hunt for the UK's best flavour - but points out that she remains slim and a "glamorous blonde".