London 2012: Call for Olympic tickets transparency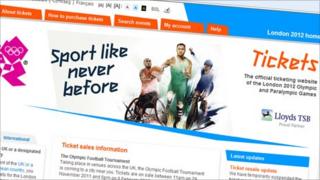 Unnecessary secrecy risks jeopardising public confidence in the ticketing arrangements for the 2012 Olympics, the London Assembly has warned.
Games organisers' refusal to provide a detailed breakdown of how many tickets have been sold at what price for each event was also criticised in a report .
Locog said 75% of Olympic tickets would be sold to the British public.
It said it would provide a breakdown once the final three million Olympic and Paralympic tickets had been sold.
Locog has previously said 28% of 8.8 million Olympic tickets available would cost less than £20, but it has not said whether cheap tickets would be available for all events, or just those where supply exceeds demand.
'Avoiding questions'
As a private company, Locog is exempt from Freedom of Information requests, and has previously cited data protection rules and the need to maintain commercial confidentiality as reasons for not being more transparent.
Dee Doocey, chairwoman of the London Assembly's Economy, Culture and Sport committee, told the BBC that Locog citing commercial confidentiality as a reason not to be more transparent was "complete nonsense" as the company is the sole provider of Games tickets.
"I suspect that in some cases and certainly for the large events like the opening ceremony and probably the 100 metres final and the diving finals... probably the vast majority of them are not going to the public," Baroness Doocey told the Today programme.
Public suspicion and anger could have been avoided had Locog been open and transparent from the start of the ticketing process, she added.
"Locog is putting public confidence at risk by refusing to provide a complete breakdown of how many tickets were available for each event."
"It is completely unacceptable that an organisation that only exists because of a huge investment of public money can hide behind its status as a private company to avoid questions it does not like."
April sale
Sold Out? - a cross-party report written after two years trying to obtain details about the ticketing process - says Locog should follow the example set by organisers of the Sydney Olympics who published ticketing information before the 2000 Games.
The committee has written to both Olympics Minister Hugh Robertson and the Olympic Board, which oversees Locog, to request the information be released before the committee questions Locog officials on the issues next month.
The report highlights outstanding questions over how 10,000 tickets to the synchronised swimming were sold accidentally and subsequently withdrawn ; technical faults with the ticket sale website ; and the number of disabled people taking up the offer of free tickets for carers.
Although 75% of the 8.8m tickets went on general sale to the British public , it is not clear how many were made available for showcase events.
More than half of the 1.9 million British people who applied for tickets in the first public ballot opted for the evening athletics session on 5 August , which includes the men's 100m final and the women's 400m final. More than two million applied for seats at the opening ceremony.
Locog has said some 29,000 tickets out of a total 80,000 (36%) were being made available to the public for these events.
Locog's chief executive, Paul Deighton, has previously said only 30-40% of tickets to the opening ceremony would be sold through the application process, with just as many tickets available at £20.12 as at £2,012.
But with seven million tickets sold so far, such breakdowns have not been provided for other major events, such as the track cycling, for which tickets are highly prized due to a combination of strong British medal prospects and the Velodrome's limited 6,000-seat capacity.
Locog has resolved to raise a quarter of its £2bn budget through ticket sales. More than a million extra tickets are due to go on sale in April.
A spokeswoman said: "We are committed to providing a full breakdown of ticket sales, and believe the best time to do this is once we have completed the final sales process."
Despite criticising the secrecy surrounding the ticketing process, Sold Out? also praised Locog's efforts to try and make the ticket process accessible and inclusive by using a ballot system.
The report also praised organisers' commitment to provide significant numbers of tickets at affordable prices, such as discounted tickets for young people and free tickets for carers.