James Whitaker, former Daily Mirror royal editor, dies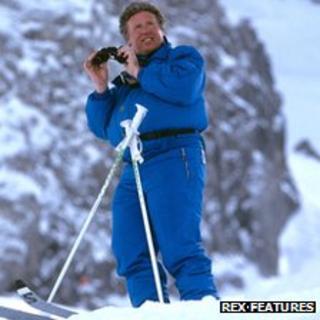 James Whitaker, the royal commentator and former royal editor of the Daily Mirror, has died following a battle with cancer.
Writing on the Mirror website, editor Richard Wallace paid tribute to him as a "true Fleet Street legend".
Mr Whitaker, who was 71, most memorably broke the news that Princess Diana was suffering from an eating disorder.
Buckingham Palace said: "Those in the Royal household who knew James were extremely sad to learn of his death."
The journalist, whose family were with him when he died on Wednesday, later wrote a book about her marriage to Prince Charles titled Diana vs Charles: Royal Blood Feud.
"James was a true Fleet Street legend who became famous around the world as a royal reporter," said Mr Wallace.
"His colleagues often joked that at times he appeared grander than the royals themselves - which, of course, he loved.
"Despite the severity of his illness, he never complained or went in for self-pity, but insisted he had a life well lived.
"Our thoughts are with his loving family who - like us all - will miss him terribly."
Mr Whitaker, who was originally from Cheltenham, was diagnosed with an aggressive form of cancer about 12 months ago and had a number of operations to remove tumours as well as chemotherapy.
His son Thomas said the family had been touched by the messages of tribute and support, which had included personal phone calls from the Duchess of York shortly before his death.
Thomas said his father had been a pioneer of royal reporting but combined it with "old fashioned journalism, knocking on doors".
Former colleagues and fans of the commentator took to Twitter to pay tribute.
Journalist and novelist Tony Parsons tweeted: "Goodbye and RIP James Whitaker: Daily Mirror Royalist, Diana watcher, Fleet Street legend and a man of boundless generosity and enthusiasm."
Mr Parsons described him as an "old school, big-hearted Fleet Street hand" and added "even when you were doing jobs he could have done, he wished you love and luck".
Former Labour press chief Alastair Campbell tweeted: "In a profession of big characters, he was one of the biggest."
'Doyen of reporters'
Guardian media commentator Roy Greenslade wrote that Mr Whitaker was regarded as the "doyen of the royal reporting pack during the Princess Diana era".
As the Daily Mirror's royal editor for a generation, he was responsible for breaking a succession of exclusive stories, he wrote.
"He was a terrific colleague. Loud, funny and with an amazing enthusiasm for story-getting," wrote Greenslade, who worked with Mr Whitaker at the Daily Star and the Mirror.
Mirror photographer Kent Gavin, who worked with Mr Whitaker for 20 years, told the Mirror: "He was, truly, a legend in his time. He had a great rapport with all the members of the royal family in spite of writing controversial stories sometimes.
"And he was respected by colleagues and rivals as well. He was just the best."
'Red tomato'
In a career spanning more than 40 years, Mr Whitaker also worked on the Daily Star, Daily Express, Daily Mail and Sun.
He described "the relationship and build up between Charles and Diana, when they were heading towards marriage" as a career highlight, the Mirror said.
He won scoop of the year at the British Press Awards in 1998 for his story the previous year about Diana's relationship with Dodi Fayed.
In an interview, Mr Whitaker recalled the "absolute furore" over his story about Princess Diana's eating disorder.
"They thought it was a disgraceful bit of journalism, people from the Palace, medical people. On what basis did I have it? Well, of course, I couldn't say that it had actually come from Diana's own sister," he said.
More recently Mr Whitaker, a regular commentator on royal affairs for television and radio, reflected on Prince Philip's place in the Royal Family, in a piece for the Mirror.
Mr Whitaker, who also worked for a time as a royal correspondent for ITV1's This Morning, was once dubbed the "red tomato" owing to his bulky skiing outfit.
He was also a competitor in Celebrity Fit Club, winning the 2004 series.