Ryanair 'sexist adverts' banned after complaints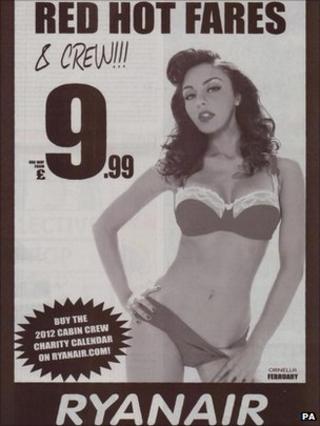 Two UK newspaper adverts for budget airline Ryanair have been banned after complaints from readers that they were sexist and treated women as objects.
The Advertising Standards Authority (ASA), which received 17 complaints, said they were likely to cause offence.
The adverts showed women posing in bra and pants with the headline "Red Hot Fares & Crew! One way from £9.99".
Ryanair claimed that, since crew members volunteered to take part, it could not be seen to "objectify" women.
The airline said the adverts promoted its cabin crew charity calendar and used images taken directly from it.
The adverts featured in the Guardian, the Independent and the Daily Telegraph.
"Because similar images of women and men often featured in the same media, the ads could not be deemed offensive or unsuitable for public display," Ryanair argued.
However, the ASA concluded that the women's appearance, stance and gaze - together with the headline - would be seen as linking female cabin crew with sexually suggestive behaviour and breached the advertising practice code.
"We considered that the ads were likely to cause widespread offence, when displayed in a national newspaper," it said.
The advertising watchdog said the adverts must not appear again.