London 2012: Wilson's Steles crayons in Olympic river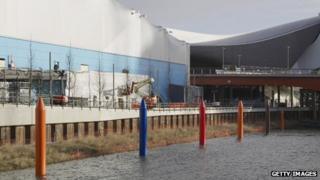 Giant crayons jutting from East London's Waterworks River have become the first artwork to be completed on the Olympic Park.
The 35 pillars are painted in the five colours of the Olympic rings and range from 10-16 feet (3-5m) in height.
The piece, titled Steles, is the work of Hackney-based artist Keith Wilson.
After London 2012 the crayons, made out of the same durable material as navigational buoys, will act as mooring posts.
Mr Wilson said the "colourful totems... will serve old functions in a new way... and help create a distinctive identity for this newest and boldest of London parks."
He added: "They connect the parkland with the river, the canal and by extension the wider world."
"They provide a sense of place and occasion, anchoring memories of many a good day out."
The Olympic Delivery Authority's Simon Wright said the commission - part of the Art in the Park programme - would help the park become a great place to live, work and play for decades to come.
Andrew Altman, Chief Executive of the Olympic Park Legacy Company, said the artwork would become a defining feature of the Queen Elizabeth Olympic Park, which will be known as South Park during the Games, and its waterways for generations.
"Our plans for the Olympic Park after the Games are more advanced than any other Olympic host city, and commissions like this will help make the Park a compelling place for visitors to enjoy," he said.