London 2012: Organisers firm over Games Lanes access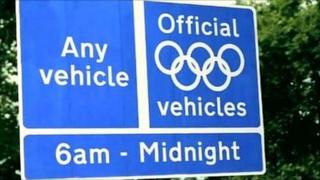 London 2012 organisers say they will take action if it is proved official ticket resellers tried to sell access to Olympics VIP Games Lanes.
Secret recordings by Channel 4's Dispatches filmed representatives for Thomas Cook and Jet Set Sports boasting they could secure access to the lanes.
The lanes are meant to ensure reliable journey times for athletes, officials, media and sponsors.
Thomas Cook and Jet Set Sports say both sets of remarks were inaccurate.
Locog insisted the two resellers could not sell access to the Games Lanes.
"We are very clear that if any of our authorised ticket resellers are claiming that they can sell access to the lanes, we will immediately take appropriate action," a spokesman told the BBC.
"We have spoken to Thomas Cook and Jet Set Sports. Both have confirmed they are not able to sell access to the Olympic Lanes."
The lanes will be used on the busiest third of the 109-mile Olympic Route Network in London - from Heathrow and Wembley Stadium, through central London and out to the Olympic Park at Stratford.
'Keep it quiet'
Undercover Dispatches reporters posing as agents for wealthy foreign clients were told that Jet Set Sports and Thomas Cook included Games Lanes transportation in their top-end packages.
Peter Moore, head of Olympic packages at Thomas Cook's agency Iluka, told Dispatches reporters that £450,000 would secure a six-night package for 23 people to top events like the men's 100m final.
The package included accredited coach travel on the restricted Games Lanes whether that transport was being used to attend an event or not, but Mr Moore said this was being kept secret because of press scrutiny.
"There have been... so many issues with these Olympic lanes, and to be honest with you, we need to keep it really quiet... because people will say: 'Oh well you can buy your way on to the Olympic lanes,'" said Mr Moore.
Thomas Cook told Dispatches Mr Moore is an employee of Iluka and that his personal views did not reflect those of Thomas Cook Plc.
Iluka told the BBC access to the Games Lanes had never been part of what was advertised in their packages and confirmed Mr Moore would have no further involvement in the selling of London 2012 ticket packages.
"Pete is a valued member of the team, but this matter is being looked into internally," said a spokesman.
'Inaccurate information'
Jet Set Sport's Richard Relton also claimed privileged access on the Olympic lanes.
Asked to comment on the recordings, Jet Set told Dispatches Mr Relton had provided inaccurate information and was no longer employed by the firm.
Thomas Cook reportedly paid Locog more than £20m for 200,000 tickets to sell as part of exclusive travel and accommodation packages, while Jet Set Sports are said to have bought 100,000 tickets that are being offered as part of five-star deals for overseas customers.
Jet Set has access to the Games Lanes as an official agent for some of the main Olympic sponsors and National Olympic Committees. Thomas Cook is a tier-two sponsor, giving it some access to the lanes.
Many road-users fear the result of the extra traffic restrictions across the ORN - including closed side roads, banned turns, suspended parking, diverted buses and changed traffic signals - will be increased congestion.
Businesses fear delays in the delivery of everything from bread to blood, taxi drivers worry the jams will cause a four-fold increase in fares, residents are concerned about curtailed access, and parents worry for increased risks to children caused by roads becoming rat-runs as commuters flee the ORN.
Games Lanes will be used by 80,000 members of the so-called Games family who are deemed to be critical to the successful running of the Games, including:
Athletes and technical officials (18,000 during Olympics/6,000 during Paralympics)
Media (28,000)
International Olympic and International Paralympic Committees
Games partners and guests (25,000)
Organisers say that that while VIPs and sponsors will be shuttled around in a fleet of 4,000 BMWs, most Games Lanes users will be transported in 1,500 coaches.