Whitney Houston paid tribute by UK music industry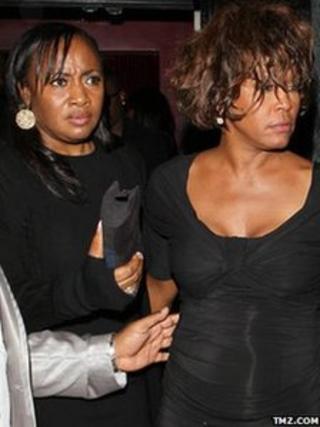 British music industry figures have added their tributes to American singer and actress Whitney Houston.
Houston, 48, was found dead in her hotel room in Los Angeles on Saturday.
Sir Elton John praised her "beautiful voice", adding: "This is a sad day. She was the most beautiful woman I think I ever saw."
Brian Grant, who directed some of Houston's music videos, said she had been a "shy, unassuming" young woman when she began her career.
But, he told the BBC: "Once she stood in front of a camera and sang, the real Whitney came alive." Her voice, he added, would "knock your socks off".
Grant directed the videos for How Will I Know and I Wanna Dance With Somebody alongside choreographer Arlene Phillips, who also paid tribute to Houston.
"Farewell Whitney. It was an honour to have worked with you and remember the good times," Phillips said on Twitter.
"My heart goes out. I just remember my early days of working with her. So sweet so shy."
Influential career
Soul singer Beverly Knight said Houston had a huge influence on other female artists.
"Whitney was more than just a great singer," she said.
"There are... few who come along and change everything when they arrive with just the power of their voice.
"And singers like me listened to her, recognised the kind of church gospel influence and realised that I could take that and put it into a really pop song and it could still have a mass appeal."
Kanya King, the founder of the Mobo awards, said that, whenever she met Houston, she always found the singer to be extremely professional.
She said: "I'm so saddened to hear of her passing because she has left an incredible soundtrack over the past three decades."
She said Houston's turbulent life was a "cautionary tale of drug use".
"I remember seeing her a few years ago in London and a lot of fans left in disappointment but she apologised profusely for not being able to hit the high notes."
X Factor winner Alexandra Burke said Houston had been her "hero".
"I really don't know what to say," she wrote on Twitter. "All I can do is cry. Whitney we love you so much."
Her sentiments were echoed by other UK R&B stars, including former Sugababe Keisha Buchanan, who said she had "learnt every song Whitney ever did".
"Never has anyone been able to touch Whitney," she added. "Life is too short".
Jessie J added: "Whitney, I sing because of you and will continue to do so in your honour, always and forever."
Record producer Pete Waterman, who first met the singer at a Rick Astley concert in Los Angeles, described Houston as an "icon" who had "one of the greatest voices of all time".
He told the BBC: "She was in a category of her own - she was unique. She took soul and R'n'B to a different level.
"She brought in the power ballad that a modern generation of singers tries to emulate but they can't because it was difficult and she was unique.
"Unfortunately being an amazing talent doesn't protect you from the weaknesses of life."
Music mogul Simon Cowell described Houston as "one of the greatest singers of all time". She had appeared on his show The X Factor as a guest in 2009.
He added that Houston was the singer most contestants on his show aspired to emulate.
"We would hear Whitney songs over and over again. She was the benchmark, she truly was," he said.
Cowell also told CNN he had planned to ask Houston to become a judge on the next series of US X Factor.
"I would have liked to have taken her under my wing as well, because she would have been the ultimate, ultimate mentor to any contestant coming on the show," he said.
Bee Gee Robin Gibb said that "one of the greatest voices in popular music today" had been lost to the world.
And American film star Cuba Gooding Jr paid tribute when he presented an award at the Baftas at the Royal Opera House in London, opening with the words: "Whitney, I will always love you."