Newspaper review: Doubts over future of Murdoch's Sun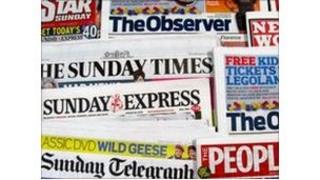 The Observer sees the arrest of five Sun journalists as a fresh crisis for newspaper boss Rupert Murdoch.
It reports on speculation the parent company of News International may be forced to consider closing the tabloid.
The Independent on Sunday says he is coming to Britain to join what it calls frantic efforts to secure its future.
Its media editor says that despite an assurance from Mr Murdoch that he is committed to the paper, its journalists are beginning to doubt it has a future.
Critical list
David Cameron uses an article in the Sunday Times to defend controversial plans to reform the NHS in England.
The paper says his endorsement of the health bill will quash speculation the government could abandon the changes.
The Mail on Sunday claims Mr Cameron thumped a table at No 10 talks and declared he would press ahead, but it feels reforms are on the critical list.
According to the Sunday Telegraph, the prime minister has concluded the package is too big to fail.
Bitter feud
There are many photos of the moment Liverpool star Luis Suarez refused to shake hands with Manchester United's Patrice Evra - whom he racially abused last year.
The Sunday Mirror calls it a disgrace and says those at the top have a responsibility to set an example.
The Sunday Express says Suarez has brought more shame on to himself.
And the People criticises Liverpool manager Kenny Dalglish, concluding his refusal to blame his player means the issue and a bitter feud continues.
Self-harm
The Observer highlights concerns about the thousands of women who are given short-term prison sentences.
A former governor of a women's prison says the level of self-harm is staggering and more women should be transferred to secure mental health units so they can get the right care.
Finally, the Sunday Express focuses on the World Watching Paint Dry Championships in Stoke on Trent.
The paper says it will get under way after a "glossy" opening ceremony.