Actor Hugh Grant stands by phone hacking claim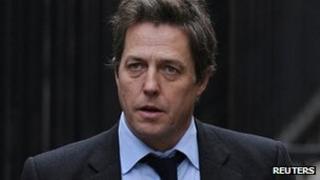 Hugh Grant has refused to withdraw his suggestion that Associated Newspapers obtained information about him through phone hacking.
Mr Grant made the allegation about the publisher of the Daily Mail and Mail on Sunday to the Leveson Inquiry.
The actor told the BBC on Saturday that newspapers were not used to having their methods questioned.
Daily Mail editor Paul Dacre has denied the allegations, describing them as "mendacious smears".
'Trashed' fear
In an interview with BBC Radio 4's Today programme, Mr Grant said: "I can see why they're cross because for once someone has had the courage to question their probity and their honesty.
"Generally speaking, if anyone does that with a paper like the Daily Mail, however much they may go on about freedom of speech, no one is allowed the freedom of speech to question the Daily Mail.
"If you do, you will be trashed. And that's what happened again and again and again to me and anyone else who has dared to question the Daily Mail."
Mr Grant said he would like the Leveson Inquiry into the practices of the press to result in a new regulatory body, in place of the Press Complaints Commission, with "teeth to sanction newspapers that go wrong".
He added: "The lowest priority in all my ranting and raving about media reform is my case or the case of any so-called celebrity."
Mr Grant denied he was actively giving up information about personal matters while promoting his films.
He said: "When you sit and do an interview are you asked about acting technique or are you asked 'how's your love life, what's it like with Liz Hurley?'
"You then have a choice. You can be Mr Pompous and say 'I really don't talk about my private life' or you can try and be a good sport and give a jokey answer."
Associated Newspapers told the Today programme that it had nothing to add to what Mr Dacre had said at the Leveson Inquiry.
'Toxic and explosive'
When Mr Dacre was recalled to the Leveson Inquiry on Thursday, he again denied phone hacking was the source of a Mail on Sunday story in 2007 about Mr Grant's relationship with Jemima Khan.
Mr Dacre also discussed his description of actor Hugh Grant's allegations about phone hacking at the Mail as "mendacious smears driven by his hatred of the media".
The newspaper editor said Mr Grant's comments alleging hacking were "toxic" and "explosive" and "he knew the damage it would cause".
Mr Dacre said he would withdraw the "mendacious smears" comment if Mr Grant withdrew his suggestion that Mail newspapers had been involved in phone hacking.
He said it was untrue and false that, as the actor told the House of Lords, private investigator Glenn Muclaire spent 30% of his time working for Associated Newspapers.
Mr Dacre said he checked company records and it was clear that his newspaper group had not paid Mulcaire.