London 2012: Call for 'reasonable' Olympic hotel rates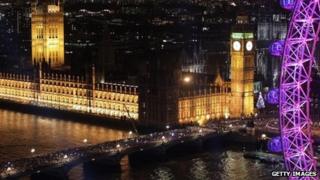 A disability charity has urged hotel owners to be "reasonable" with room rates for the Olympics and Paralympics.
The call comes after MP Tessa Jowell said the Government must tackle the "scandal of extortionate price rises" in hotels during London 2012.
The shadow minister for London and the Olympics claimed prices across London were averaging an increase of 315%.
She called for action "on behalf of those already struggling families across the UK".
Mencap, a charity which supports people with learning disabilities, responded after Ms Jowell highlighted the case of a woman from Exeter who, she said, was having to pay £1,000 a night for a room with a hoist to be able to take her disabled daughter to the Paralympics.
The same room at Easter costs £375, which is an increase of 167% in price.
Be reasonable
"It is unacceptable for hotels to be charging disabled people and their families inflated costs to use a room with a hoist," David Congdon, Mencap head of campaigns and policy, said.
"Many disabled people struggle as it is to find adequate hotel accommodation without the added barrier of having to pay additional fees.
"The Olympics and Paralympics will be fantastic events but it's important that everyone is given the opportunity to participate.
"This must include people with a disability. We urge hotels to be reasonable with their charges during the Games."
Ms Jowell was speaking during the Culture, Olympics, Media and Sport questions in the House of Commons on Thursday.
"There is a big problem here," she said.
"And while I welcome the Government's £4m to encourage domestic tourism and yield the potential £2.5bn Olympic tourism premium, do you agree with me that the Government should act to address this scandal of extortionate price rises in London hotels during the Olympic and Paralympic Games?"
Minister for Tourism and Heritage John Penrose said: "I would completely agree with her that it is vitally important that we have properly accessible attractions and accommodation."
He added: "I would however say to her that it has always been the case that prices alter during the course of the season, that is entirely natural."
High demand
The British Hospitality Association (BHA) said the hotel industry fully supports the Olympic Games but it is demand-led and prices reflect demand.
"If, as we expect, demand is strong over the Olympic period, prices will rise," Miles Quest from BHA told the BBC.
"But price comparisons should be made with other periods of high demand in London, such as Farnborough Air Show and Wimbledon, not at other times of the year. "
There are 110,000 hotel rooms in the Greater London area and a further 75,000 in south-east England within easy travelling distance of London - the most that any Olympic city has ever been able to offer.
And while Mr Quest said BHA is aware of the danger of over-pricing, many hotels are independently owned and businesses make their own commercial decisions.
"The London hotel industry has provided 40,000 rooms to (Games organisers) Locog at a specially reduced rate," he said.
"That was a key element in London winning the Games in the first place. 8,000 of these rooms have now been returned, which has eased the supply position.
"Our advice is for visitors is to shop around and to find the best deal for their requirements. There are many hotel rooms available outside the most popular areas."
Locog booked 600,000 room nights in 2005 and returned 120,000 in January.