Libya hope in PC Yvonne Fletcher murder inquiry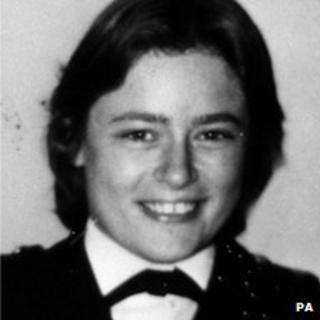 British diplomats are hopeful that police investigating the 1984 murder in London of PC Yvonne Fletcher will be able to visit Libya "soon".
Libyan interior minister Fawzy Abdilal confirmed the National Transitional Council's commitment to help with the inquiry on a visit to London last week.
A senior British diplomat said Libya had been "very positive" but an exact timescale could not be put on a visit.
PC Fletcher was killed by shots fired from the Libyan embassy at protesters.
Suspects named
The diplomat said: "The investigation is open. The main focus for us is to ensure the police can take forward that investigation.
"That is why we have consistently raised it with the Libyan authorities.
"They have been very positive about this and, whilst we can't put an exact time on it, we hope that the police will be able to visit Libya soon."
One suspect, named as Matouk Mohamed Matouk, returned to Libya under the protection of diplomatic immunity in the same month as PC Fletcher was killed.
Two Libyan diplomats suspected to have been involved are reported to have since died.
They include the junior official thought to have fired the fatal shot, named as Abdulmagid Salah Ameri.
'Commitment there'
Mr Abdilal visited the UK ahead of the first anniversary next week of the start of the uprising that saw the overthrow of Col Muammar Gaddafi.
Mr Abdilal had meetings with figures including Foreign Office Minister Jeremy Browne and National Security Adviser Sir Kim Darroch.
Subjects raised included the PC Fletcher case, the Lockerbie bombing and Col Gaddafi's arming of the IRA.
The British diplomat said of the PC Fletcher investigation: "This is an issue which we have raised at pretty much every high-level meeting that we have had.
"He [Mr Abdilal] said he was very happy for his ministry and others to co-operate with us on these issues.
"The commitment is there to work with us. We are more optimistic than we were a year ago."