Work to begin in 60 flood-risk towns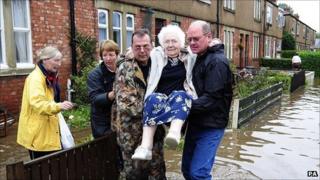 Construction is to begin on 60 flood and coastal defence schemes across England in the next financial year, the government has announced.
The environment department said as a result, more than 25,000 homes would be better protected from the sometimes devastating effects of flooding.
Areas to benefit include Warrington in Cheshire, Salmons Brook in north London and Godmanchester in Cambridgeshire.
The government sought local funding to help cover the £243m total costs.
Local councils, communities and the private sector were asked to contribute, and, said Defra, have come up with about £50m.
Work is expected to start before the end of this current financial year on a scheme in Cockermouth.
The Cumbrian market town is prone to flooding, and was severely hit in November 2009, with the RAF having to airlift dozens of residents to safety.
There, local residents agreed to contribute to the cost of the scheme which should see about 360 homes better protected. Central government is funding £4.9m of the total £6m costs.
The BBC's Danny Savage said now the schemes have been given the go-ahead, residents would hope they had a better chance of getting insurance.
The Environment Agency has a target to provide better protection to 145,000 homes by 2015, and now says it expects to exceed that.
Of these homes, about half are in areas of significant flood risk and almost 15,000 households are both at significant flood risk and in the most deprived parts of the country.
Environment minister Richard Benyon said the 60 new schemes would bring "huge relief to tens of thousands of households".
"Our investment will protect these communities from the devastating effects of flooding, and allow residents to live without the fear and worry of their homes being damaged," he said.
"Small towns like Cockermouth and Morpeth became household names after the devastation and distress caused by flooding in recent years.
"Today, residents here and in many towns across the country are reaping the rewards of the partnership funding model brought in to enable more flood defence schemes to go ahead."
A government spokesman said early indications suggested that up to a third more schemes would go ahead in the coming years than if costs were met by central government alone.
Environment Agency chairman Lord Smith said one in six homes in England were at risk of flooding and urged people to take their own steps to prepare for flooding, including signing up to the Environment Agency's free flood warning service.