Temperatures plunge to winter low of -16C at Holbeach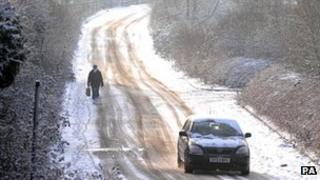 Temperatures plunged to -16C (3.2F) overnight making it the coldest night of the winter so far.
The figure was recorded at Holbeach, Lincolnshire, and temperatures were down to -10 to -15 across some other parts of England and Wales.
However, Scotland and Northern Ireland were largely frost free overnight.
BBC weather forecaster Laura Tobin said it would stay very cold, with freezing fog affecting parts of the east Midlands and Lincolnshire.
On Friday dozens of schools in England closed, including 30 in Staffordshire and Cheshire, one in Wiltshire, four in Lincolnshire and two in Cambridgeshire, after snow had fallen overnight.
The Met Office also issued "yellow" warnings, telling people to "be aware" of ice up to midday on Saturday across England and Wales.
Cold alert
A "level three" cold weather alert, issued by the Met Office on behalf of the Department of Health, is in place for England, telling people to "be prepared" for severe cold weather and icy conditions until Monday morning.
Latest local news, travel and weather
The sports schedule has been affected by the weather.
Saturday's League One games between Brentford and Oldham, Stevenage and Carlisle and MK Dons and Bury have been postponed. No new dates have been confirmed.
The opening round of rugby league's Northern Rail Cup on Sunday is also affected. London Skolars' home game against Toulouse was called off because of snow and Swinton's tie at York was also postponed.
The horse racing meetings at Newbury, Uttoxeter and Warwick have also fallen victim to the freezing conditions.
Charities are warning elderly people are among the most vulnerable in the cold weather and urge people to check on their older relatives or neighbours.
UK weather maps: Click on Key and tabs for extra detail
The enhanced content on this page requires Javascript and Flash Player 9
Map Key
Land
Cloud
Lakes, Rivers & Sea
Fog
Light
Heavy
Frost
Light
Heavy
Pressure Fronts
Cold
Warm
Occluded
Rain
Light
Heavy
Extreme
Snow
Light
Heavy
Temperature tab only
Temperature (°C)
More details from BBC Weather