Councils refer record number of children into care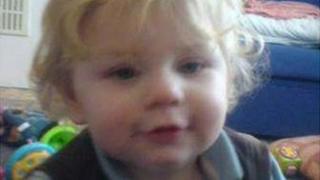 The number of children referred into care in England has hit a record high.
Last month, local authorities made 903 court applications to take children into care - the highest since courts service Cafcass was set up in 2001.
Numbers have been rising since late 2008 and the infamous Baby P case involving the death of a toddler while on the at-risk register in London.
Cafcass boss Anthony Douglas said: "All agencies need to factor in these much larger increases into their planning."
It is the first time England's referral figures have passed the 900-mark in a month, and compares with 803 the month before and 698 in the previous January.
The average monthly figure for this financial year so far is 840, compared with 747 in 2010/11.
The BBC's Sanchia Berg said increasingly children were being taken into care because of neglect rather than abuse.
"Courts have to decide whether a child's been harmed - or at risk of harm. That harm can be emotional, rather than physical," she added.
'Urgent need'
"Nearly every child involved needs love, care and therapy, either back home or elsewhere," said Mr Douglas, chief executive of the Children and Family Court Advisory and Support Service.
"All agencies need to factor in these much larger increases into their planning systems, resource allocations, workforce development strategies and service contracts, so that the most vulnerable children in the country continue to receive strong public services."
He added: "The profile of children entering the system is unwavering: an unquestionable need for care for the vast majority, and the urgent need to be given their normal childhood back and to be allowed to develop in a loving and supportive family environment."
There was a sharp leap in the numbers following the conclusion of the trial over Baby P's death at the end of 2008, and they have continued to rise in the years since.
Matt Dunkley, President of the Association of Directors of Childrens' Services, told BBC Radio 4's Today programme there were two areas where a better understanding of child development and the effects of neglect had led to an increase in the number of care cases.
"One is the effect of domestic violence on children in the home and the emotional abuse that that represents, but also it is about understanding the effects of neglectful parenting due to drug and alcohol problems and the physical damage to development and brain development that it can do in very young children," he said.
'Avoidable tragedy'
Bristol social worker Anne Farmer said the increase was partly due to a better understanding of the issue among the professionals they worked with, such as in health and education.
"They are more alert to some of the impacts of parental behaviour on children and therefore feeding us much more quality information, allowing us to make better informed decisions," she said.
Anne Longfield, chief Executive of charity 4Children said the huge rise in the number of children taken into care by local authorities was an "avoidable tragedy that we cannot ignore".
"The increasing numbers of families who are facing crisis because of problems such as drug or alcohol abuse and domestic violence suggests that we are not helping parents overcome their difficulties early enough."
The child protection systems in Wales, Scotland and Northern Ireland are different to England.
In Northern Ireland the latest statistics indicate a drop on the number of child protection referrals for the third quarter of 2011, compared with the previous year.
However, in Scotland there has been a slight rise in the number of children subject to child protection orders between 2010 and 2011.
Seventeen-month-old Baby P, Peter Connelly, died after suffering more than 50 injuries in Haringey, north London, in August 2007.
This was despite being known to Haringey Council children's services, and receiving 60 visits from social workers, police and health professionals in the last eight months of his life.
The child's mother and two men were jailed for causing the death, while a series of investigations subsequently identified opportunities when officials could have saved him if they had acted properly on the warning signs.