London 2012: Restaurateur prepares for Olympic influx
By Jane Mower
BBC 2012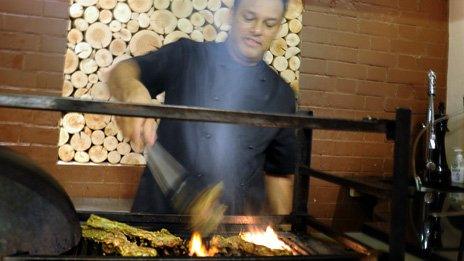 Part-time air steward Sabbir Karim spends much of his time flying around the world sourcing recipes for his two restaurants but, he says, this summer London is the only place to be.
The 2012 Olympics could mean big business and in anticipation of an upturn in trade he has taken six months off from flying to focus on getting the most out of this "great opportunity".
"It's a great place for people to come, and a great place to be, it's exciting and we've a lot to gear up for," he said.
And with a newly installed cycle hire docking station just outside his Camden restaurant he is hoping the hungry hordes will fall through his door.
"I'm expecting things to pick up from June onwards. It's the start of summer and people are going to want to come to London early and enjoy being here," he said.
Working on creating Olympic-themed menus and promotions so his customers can get into the spirit of the Games, he is clearly enthused about the role he has to play in welcoming the world to London.
And while what might be considered traditional British fayre may not be on the menu he thinks his Indian restaurants are well placed to give visitors from all over the world a taste of Britain.
Backing former foreign secretary Robin Cook's assertion that chicken tikka masala was "a true British national dish" Mr Karim, 42, said Indian cuisine was "a slice of Britain".
"Everyone knows Indian food and knows quite a lot about it," he said.
Working part-time for British Airways (BA) Mr Karim, a husband and father-of-three, was able to set up two restaurants, Salaam Namaaste in Russell Square in 2005 and Namaaste Kitchen in Camden five years later.
In 1979 he moved to London as a nine-year-old boy with his family from Bangladesh and now considers the capital to be his home.
Working as an air steward for 16 years has allowed him to travel all over the world but he has never been tempted away from London.
Multiculturalism - which played a key role in London securing the bid to host the 2012 Olympics - is one of the reasons Mr Karim thinks London is so great.
"The thing about London is its freedom, multiculturalism and the opportunity to have access to so many resources. It's buzzing.
"I love going back to Bangladesh but I get homesick and when I go there I look at it as a holiday."
His last flying trip with work was at the beginning of the month and now he faces the task of gearing up to cope with the anticipated demand driven by the Olympics.
On the menu are dishes inspired by visits to some of the world's top restaurants where he has become friends with the chefs.
Mr Karim said they are happy to share their culinary secrets with him.
"Being cabin crew gives me access to so many nice restaurants around the globe and working for BA they treat you favourably so that helps," he said.
One of his most popular dishes, peshwari lamb chops, was inspired by Bukhara in Delhi which has often appeared in the Restaurant magazine's annual list of the world's top 50 restaurants.
As well as sourcing the recipes himself he admits to being hands on when it comes to the cooking, especially when important guests come to dine.
It is this strong work ethic which means, instead of watching any of the Olympic action first hand, he will be working to ensure both his businesses and customers benefit.
"That's the fun of it", he said.
"I will be meeting people of different nationalities and cultures. Wherever you go in London you bump into different nationalities."
Having travelled to South Africa during the last football World Cup he said he was confident the atmosphere generated by the Games in London would be even better.
"It's just going to be a great time to be in London," he said.
Related Internet Links
The BBC is not responsible for the content of external sites.