London Stock Exchange terror bomb plot was 'amateurish'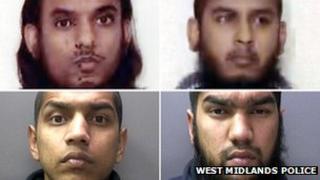 A plot to bomb the London Stock Exchange was "amateurish" and unlikely to succeed, a court has heard.
Father-of-three Gurukanth Desai, 30, was "more of an anti-capitalist than a radical Islamist", Woolwich Crown Court in London was told.
Rajiv Menon QC, mitigating for Desai, said it was a "poorly thought through and unsophisticated" plot.
Desai and three others pleaded guilty last week to planning to plant a bomb in the toilets of the Stock Exchange.
Five other men have pleaded guilty to lesser terrorism offences.
'Parroting nonsense'
Mr Menon told the court: "It is more likely than not that there would never have been any detonation of any explosive device at the London Stock Exchange."
Mr Menon played down a bugged conversation between Desai and his brother in which they said Hitler "had been on the same side as the Muslims" and they claimed that fewer than 100,000 Jews died in the Holocaust.
"He's more of an anti-capitalist than a radical Islamist, notwithstanding what he said about the Holocaust on 28 November [2010], where he was in effect parroting nonsense he had read on some conspiracy theory website," he said.
Mr Menon added that the plot was intended to cause "terror, property damage and economic harm" but he said there was also a risk of death or serious injury.
The prosecution has outlined how a separate branch of the extremist group based in Stoke-on-Trent plotted to raise funds for a terrorist training camp in Pakistan-controlled Kashmir for British radicals to attend.
But Joel Bennathan QC, for Usman Khan, 20, said it was "highly unlikely" that that would have happened.
Mr Bennathan said only a few thousand pounds had been raised before Khan and others were arrested.
'Revenge fantasy'
He said a discussion among the group about setting off pipe bombs in the toilets of two pubs in Stoke-on-Trent lasted only four minutes.
"It's not particularly about jihad, it's about young men indulging almost in a revenge fantasy," he said.
Andrew Hall QC, the barrister of Mohammed Shahjahan, 27, said the training camp plan would "inevitably" have come to light because three "deluded young men" were well known to the UK authorities and had been placed under MI5 surveillance.
They ran stalls promoting their views about Islam in Stoke-on-Trent's High Street every week.
The court was told that father-of-two Shahjahan had the highest profile of the group and had given a number of media interviews.
He appeared on a BBC documentary, called My Name is Mohammed, on which he talked about bringing Sharia law to the UK.
Desai and his brother Abdul Miah, 25, both from Cardiff, and Mohammed Chowdhury, 22, and Shah Rahman, 28, both from London, have pleaded guilty to engaging in conduct in preparation for acts of terrorism by planning to plant a bomb in the toilets of the London Stock Exchange.
They were arrested in December 2010 and are being sentenced at Woolwich Crown Court.
Khan and Omar Latif, 28, both from Cardiff, and Shahjahan 27, Nazam Hussain, 26, and Mohibur Rahman, 27, all from Stoke-on-Trent, have pleaded guilty to lesser offences.
In court Chowdhury was described as the "lynchpin" of the group.
He discussed carrying out a "Mumbai-style" attack on Parliament or the London Eye, but the prosecution said: "There is no evidence at all that this group had the physical capability to carry out a Mumbai-style attack."