London 2012: Olympic pay deal for Virgin staff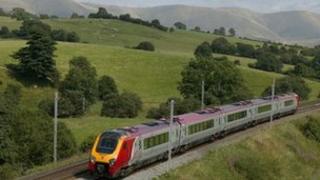 Virgin Trains is to pay staff a £500 bonus for working during the Olympics after negotiations with union chiefs.
The Rail, Maritime and Transport (RMT) union praised the "no strings" deal for 1,500 staff.
Virgin Trains operates the West Coast main line between London Euston and northern England, Wales and Scotland.
The RMT said the deal with Virgin Trains would also see wages and allowances rise by 4.6% or £950 - whichever is the greater - from April.
Staff will also get an extra day's leave for the Queen's Diamond Jubilee, it added.
'Victory for industrial campaigning'
RMT leader Bob Crow said of the Virgin agreement: "This is another deal that protects our members' standards of living and rewards them for carrying the extra pressure of the Olympics.
"It is also another victory for the RMT's industrial campaigning and organising strategy which has delivered the goods for its members once again."
A Virgin Trains spokesman told the BBC: "We are delighted the offer has been accepted and look forward to playing our small part in making the sure the Olympics is a great success."
The £500 Olympic bonus for workers was a reflection of the work required to put on additional services and more than 100 extra carriages to increase the number of seats available for those wanting to travel to Olympic venues, added the spokesman.
The RMT said an agreement by Docklands Light Railway (DLR) to pay its staff as much as £2,500 for working during the Olympic Games had "raised the bar" in salary negotiations.
It has also agreed a £500 bonus for Network Rail staff working during the Olympics, as well as a pay deal for London Overground staff worth at least £600.
Bus workers in London have said they want a £500 payment for being on duty during the Olympics, with Trade union Unite writing to bus operators on behalf of up to 28,000 employees raising the threat of industrial action if a deal is not agreed.
The RMT last month rejected a "derisory" offer of a £100 bonus for Tube workers, calling for "proper rewards" for staff working under extra pressure during the games.
Transport for London says it will hold more discussions with the union over the issue.