Pakistan training camp discussed in secret recording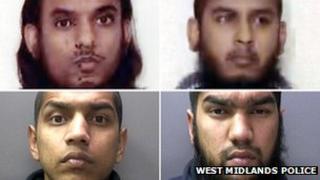 A man convicted of terrorism offences suggested others could attend a firearms training camp in Kashmir, his sentencing hearing is told.
Usman Khan, 20, from Stoke-on-Trent, was secretly recorded talking about recruiting British radicals to attend the camp.
He said the camp would look like a legitimate "madrassa", an Islamic religious school, from the outside.
Khan and eight other men have pleaded guilty to a range of terror offences.
Prosecutor Andrew Edis QC, opening the case for the Crown on day two of the sentencing hearing, said: "He has recently returned from Pakistan, and the inference is he's been there, and is going back there within a few weeks."
About the camp, he added: "It is... quite clear that the hope is that there will be a significant number of UK citizens who will attend there."
Discussing terrorist fundraising, Khan was recorded saying Muslims in Britain could earn in a day what people in Kashmir, a disputed region between Pakistan and India, were paid in a month.
'Victory, death or prison'
He went on: "On jobseeker's allowance we can earn that, never mind working for that."
Khan, speaking of support for jihad, said he could only see three results: "There's victory, what we hope for, there's shahada (death as a martyr), or there's prison."
Mohammed Chowdhury, 21, Shah Rahman, 28, both from London, Gurukanth Desai, 30, and Abdul Miah, 25, both from Cardiff, have pleaded guilty to engaging in conduct in preparation for acts of terrorism by planning to plant a bomb in the toilets of the London Stock Exchange.
They were arrested in December 2010 and are being sentenced at Woolwich Crown Court.
Usman Khan, Omar Latif, 28, from Cardiff, Mohammed Shahjahan 27, Nazam Hussain, 26, and Mohibur Rahman, 27, all from Stoke-on-Trent, have pleaded guilty to lesser offences.
In court Chowdhury was described as the "lynchpin" of the group.
He discussed carrying out a "Mumbai-style" attack on Parliament or the London Eye, but the prosecution said: "There is no evidence at all that this group had the physical capability to carry out a Mumbai-style attack."
Internet browsing history showed that he used Google Street View to examine the area around the London Stock Exchange at street level, the hearing at Woolwich Crown court was told.
Football code
Miah was bugged as he spoke to Chowdhury on December 4 2010, using football as a code for their plans and referring to the Stoke members of the group as "guests".
He said: "We will be able to play football, proper match, tournament, without guests... We don't need any outsiders in the tournament."
Mr Edis told the court: "There was a distinction between the nine members of the group. The four who were party to the discussion about an attack in the UK appeared to have been working on the basis they didn't need outsiders in that project."
Miah also spoke of using VAT fraud to get "proper money" for their plans and compared the group's projects to the September 11 2001 attacks in the US.
"That (9/11) was a very big thing. Ours is nothing compared to theirs... They took many years starting to get ready, so this is a small thing," he said.
The hearing continues.