UK freezes as night-time temperatures fall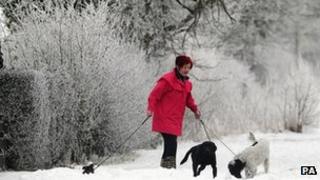 Temperatures in England plummeted overnight but failed to match the coldest night of the winter so far.
Forecasters say the lowest temperatures reached -11.8C in Church Fenton in North Yorkshire.
However, this failed to beat the -12.4C recorded at South Newington in Oxfordshire on the night of 3 February.
Snow flurries fell overnight around Kent, Sussex and the Thames estuary. Northern Ireland and parts of the north of Scotland remained frost-free.
Across England and Wales the temperatures ranged from between -6C and -8C overnight. The temperatures in southern Scotland fell to -5C, while in Northern Ireland the temperature was 2C in County Down.
Gritted roads are liable to refreeze at temperatures lower than -8 to -10C. Weather forecasters say the snow flurries will be nothing like as widespread as at the weekend.
BBC weather forecaster Holly Green said that most places in England and Wales will be between 0C and 2C during Wednesday, although spots on higher ground will struggle to get above freezing.
Latest local news, travel and weather
"Scotland and Northern Ireland will be milder, with temperatures of 4C to 8C.
"It is quite windy in those places and it will therefore feel colder than that, and rather raw.
"Tonight, in some parts of Wales, the West Midlands and the north of England the temperature in rural areas and where there is lying snow will be between -10C and -12C.
"The rest of England and Wales will be between -2C and -7C, while Scotland and Northern Ireland will fall to between 2C and 5C."
The lowest temperature ever recorded in England during February was -20.6C on 25 February 1947 in Woburn.
UK weather maps: click on Key and tabs for extra detail
The enhanced content on this page requires Javascript and Flash Player 9
Map Key
Land
Cloud
Lakes, Rivers & Sea
Fog
Light
Heavy
Frost
Light
Heavy
Pressure Fronts
Cold
Warm
Occluded
Rain
Light
Heavy
Extreme
Snow
Light
Heavy
Temperature tab only
Temperature (°C)
More details from BBC Weather