Amanda Knox appeals against slander conviction in Italy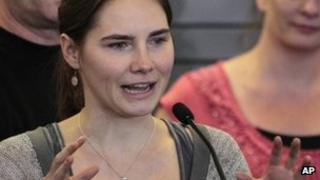 Amanda Knox has filed an appeal against her conviction for slander in Italy, a family spokesman says.
Last October, an appeals court overturned the US citizen's 2009 conviction for murder over the death of her British flatmate, Meredith Kercher.
Kercher was found dead in 2007 in the flat they shared in Perugia, Italy.
Ms Knox was given a three-year sentence for slander after falsely accusing the owner of a Perugia bar where she worked of involvement in the killing.
The 24-year-old later said she had been "manipulated" during a long police interrogation.
The bar owner was freed after two weeks in prison for lack of evidence.
Ms Knox returned to her home city of Seattle after her murder conviction was overturned, having been in custody since 2007.
A spokesman for the Knox family said the appeal had been filed at an Italian court by lawyers acting on behalf of Ms Knox on Monday.
Ms Knox's then-boyfriend, Raffaele Sollecito, was also acquitted of the crime last October.
A third defendant, Ivory Coast-born Rudy Guede, was convicted in a separate trial of sexually assaulting and stabbing Kercher and sentenced to 16 years in prison.