Joey Barton tweet 'no risk' to John Terry case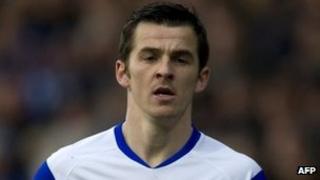 Attorney General Dominic Grieve has defended the UK's contempt of court laws after deciding not to prosecute footballer Joey Barton for his recent Twitter comments.
Mr Barton tweeted a series of comments regarding the impending court case of John Terry, raising concerns that he might prejudice the trial.
But Mr Grieve said he was satisfied the trial would not be compromised.
He also said contempt laws work "perfectly well" as they currently are.
Mr Terry will stand trial for alleged racist abuse in July for allegedly making racist comments towards Queens Park Rangers defender Anton Ferdinand in a league match on 23 October 2011.
He has pleaded not guilty and will stand trial on 9 July. As a summary offence under the Crime and Disorder Act, it will be fully heard in a magistrates' court.
The attorney general said he did not consider Mr Barton's tweets had created a risk of prejudice in Mr Terry's trial. Mr Barton has 1.2m followers on his Twitter account.
The Contempt of Court Act 1981 states that once someone is arrested or charged, there should be no public comments about them which could risk seriously prejudicing their trial.
Mr Grieve was asked on the Today programme whether the rise of social media sites on the internet means current contempt of court laws could no longer function.
"I think contempt laws can work perfectly well. It was never the object of contempt laws that it was going to stop every piece of tittle tattle round a dinner table or in a pub. That's not possible.
"The question is whether the environment in which a fair trial can take place can be preserved and protected."
Mr Grieve said people were prevented from putting out background material into the public domain prior to a trial being heard, which might prejudice or influence proceedings.
"Mere invective or unpleasantness doesn't necessarily meet that test," he added. "Although in some circumstances it could. I have to take a judgement on a case by case basis."
He continued: "As far as I could see, in this particular case, whatever Mr Barton had been doing didn't seem to me, on the facts, to amount to creating the risk we have just been talking about."