London 2012: Paralympic fans make plans for Games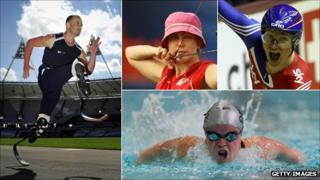 With the London 2012 Paralympic Games 200 days away, ticket-holders are making plans for travelling to London for their chosen events.
Here, some of those going to the Games reveal how their preparations for getting to - and around - the city are going.
Daniel Storr
Daniel, 34, is a volunteer for the charity Wheelpower, which organises sports development and provides facilities and equipment for disabled people at Stoke Mandeville Stadium. He is going to the Paralympic 800m and swimming events. He lives in Buckinghamshire and uses a wheelchair.
"I think it's great that the Paralympics are coming, I'm really looking forward to it all. I can't wait to see the athletics and the swimming, although probably the swimming slightly more, just because I think it's more likely we will win a medal.
I haven't thought about how we're getting there yet, we're hoping to find some way of driving in, although we know there won't be guaranteed parking. I'll be going with my parents and I think my sister and brother-in-law. We'll just travel into London on the day of the event and then come home again - we won't have to worry about accommodation, living so close to the capital.
I work largely on the fundraising side of Wheelpower. I've been a volunteer for over six years - at the moment I'm doing two mornings a week because of health concerns, but I used to do three full days.
Generally my role involves sending out details of fundraising events when they come around, eg the London Marathon, treks in the Sahara, going up Ben Nevis, things like that. It's mainly able-bodied people who raise money for us although you can do a parachute jump whether you're able-bodied or not.
Our chief executive, who's in a wheelchair, has done the parachute jump before. He did a tandem jump and was strapped to a professional, who landed on top of him! The chief executive was a bit squashed but he was all right. I haven't done it myself but hopefully I will one day.
I'm in a wheelchair full-time. I was born with spina bifida and I did learn to walk at one point, up until I was about 24. But over time my legs just gave way and I ended up wheelchair-bound, it was inevitable.
Accessibility to buildings is a big problem for me and although it's improving there are still a lot of old buildings around. Some places make adaptions where they can to allow wheelchairs in, but some say 'we're listed, we can't change our access so we can't let you in'.
I do use trains and go to London about twice a year for hospital appointments but I just use the overground.
My only experience of the Underground was going to Wembley Park. I had real problems getting on and off the train as there's quite a large gap between the train and platform.
If my Dad hadn't been with me to help, I wouldn't have been able to do it. I can't use the tube independently - with a wheelchair I need a ramp and that doesn't seem to be possible on the tube.
But I can book a ramp on an overground train if I ring them the day before - it's great, they're waiting for you to help you when you arrive. And buses are very good too.
I've always been interested in sport of some description, I became interested in wheelchair sport when I played wheelchair basketball in the old stadium at Stoke Mandeville when I was 16. That got me involved and when I left university, where I did an HND in computing, I had some free time and thought I'd help them out at Wheelpower. I don't do any wheelchair sport at the moment but I go in the gym at the stadium a couple of times a week."
Sarah Price
Sarah, 26, works for School Sport Partnerships in County Durham, helping provide sport for 40 schools in the area, including disabled children. She has a passion for sport and also works with disabled people to encourage them to participate in sport. She has tickets for athletics, swimming and sitting volleyball plus an Olympic Park day pass and an Excel Centre day pass.
"I can't wait for it all to come around - we're all sorted, everything's booked, the train tickets and accommodation are all done. We'll be there for five days and our hotel is walking distance from the Olympic Park so I'm not that worried about transport. I'm not always this organised, it's only when I'm travelling!
We haven't got anything else in the pipeline yet for our trip, we'll mostly see how we feel on the day.
The only time we'll definitely have to use the tube during the Games will be getting to the Excel Centre for 9am in rush hour but we'll just have to get on with it. Our Excel day pass will mean we can go to boccia or table tennis if there's enough space - it's the same day as the sitting volleyball, which will last for two hours.
There's plenty going on for the Paralympics at my work. We have workshops for schools teaching sitting volleyball, boccia and goalball.
We're also planning a big opening ceremony to coincide with the torch relay coming to our area in June. One of our local schools hired the 'other' Excel Centre in County Durham, through the Get Set Network. We're gathering 40 schools there for a night and each school will do an exhibition on what they've done on the Olympics and Paralympics.
There will be 10 performances from schools, and we also have former Olympic gymnast Craig Heap coming to speak. We're also trying to get a Paralympian athlete to come along but there don't seem to be many up north!
We're going to let the kids run it - the kids are in charge! The whole event's going to be compered by young people, we have young ambassadors linked to 2012 and they have to spread the word of the Olympics.
We've also got an event tomorrow, with two kids from each school coming along to help plan it all and design the tickets."
Sarah Ellacott
Sarah, 28, is a homemaker from Croydon with four children aged seven, five, four and 18 months. She home-schooled her son Matthew, nearly six, who is autistic, until he gained a suitable place at a local school. She is also doing an Open University course in Politics and Sociology. She and her family have tickets for athletics and swimming.
"I'm going to wait until closer to the time to sort out the travel.
I don't live far from the Olympic Park so for me it would take about an hour but when you go on the Locog journey planer, they are asking me to take a journey around London - with two or three additional trains.
All I need to do is just get a train to London and then get on the Jubilee Line.
I know how to get there so I know where I'm going. The only thing I can think of is that they are trying to divert people but I've ended up ignoring it.
When we get really close to it then I can start thinking about it. We're quite lucky as I know exactly where to go - so just need to plan it to get there and allow an additional hour for security.
When you've got four children then that's not going to be much fun but I'm going to wing it on the day. If we don't get through security when the event starts, it's not a problem for us, as long as we see some of the event.
The only problem is that it will be very packed because there are so many events taking place. That's my only concern, even if we leave with plenty of time. We'll just take it as it comes. It might not be as packed as I thought it would be.
Once we get to the Olympics time period that's when I'll start preparing. I went to a gymnastic test event so we got to experience what the events would be like. I've seen some merchandise and it's given me an idea to dress the kids in Olympic colours.
I'm waiting for tickets to come. I had an email asking me to check my details were correct so they could start sending them out.
I was thinking it's about time to find out where we will be sitting but that was the first time I realised it was getting closer.
The boys are too young to get excited. My daughter is quite excited. She was fascinated by the gymnasts [at the test event]. So she's going to enjoy it when we go. The boys will probably be more excited on the day."
Kath Vickery
Kath, 28, lives in Somerset and was registered blind in 2006, having been registered as visually impaired from childhood. Kath is currently unemployed and looking for a job, having previously done administrative work. She takes part in swimming competitions at a recreational level and has got tickets for swimming, the Paralympic closing ceremony and Olympic synchronised swimming. She will be in London for six nights but has not arranged accommodation yet.
"I've looked at staying around Stratford but it's proving too expensive, so I might have to stay further out. I've looked at a hotel in Waterloo which I know has availability but I'm not sure yet.
I'm looking at the best locations for me with my disability - I know it's a direct train from Waterloo to Stratford so I wouldn't have to change lines.
I'm just trying to get the money together as I'm staying six nights and trying to do it on a budget.
It's harder than I thought to find places where I think I'll be able to cope without too much difficulty and the closer it gets, the more booked up places will get. I'm sure I will get there though.
There is a test event at the Aquatics Centre in March, so I might try to go to a few sessions as it will be quieter for me to learn the route.
It's something I might try to do to get from Waterloo to Stratford, and walking from the station to the park.
I'm still looking for an appropriate guide dog. It's just basically about finding the right one. I had a call this week from the Guide dogs Association and they are expecting new dogs so it could be quite soon.
They don't give you a timescale but I would hope I would have one by the Paralympics. I've already been waiting a year so I can't tell.
I'm still looking for admin work but I am going through the checks to work with the local police who are setting up some voluntary work.
I'm so excited about the Olympics. I can't believe I'm going. It is quite a commitment but definitely will be worth it."
Ruth Faulkner
Ruth, 21, is a student at Queen Mary, University of London, studying journalism and contemporary history. She has set up an Olympic-inspired student-led volunteering project at the university called QMSU Aspire. It aims to increase understanding and recognition of the Paralympics and parasport in her local community of Tower Hamlets, an Olympic borough. She has tickets for wheelchair basketball, boccia and sitting volleyball.
"I can't wait for the Paralympics, we have celebrations starting at Queen Mary soon, it feels like all of 2012 so far is just build-up. It seems only five minutes ago it was one year to go, so summer is going to come round quickly. It will be amazing seeing it all actually happening.
I'm a volunteer for the press operations team for both the Olympics and Paralympics and was at Wembley Arena on Sunday for the Games Makers training event .
A surprising amount of people turned out in all that snow, they were inspiring, especially those who had travelled across the country at their own expense for something that only lasted three hours. You have to respect them.
They don't get their expenses reimbursed at this point, it's quite a commitment and was uplifting to see how much people care.
I'm really excited about the Paralympics and I've got my project, Aspire, building up what we do as the Games get closer.
We're having a showcase of a couple of Paralympic sports - we've got local schools coming along to our event on 16 March to see wheelchair basketball, boccia and sitting volleyball.
I still volunteer for the London Youth Games as well - I'm going to the School Games at the Olympic Stadium, I'll be volunteering for the media there, it'll be great to be on the site.
I've also applied for a job at the Olympics on the media office help desk. It would be giving information to journalists wanting research on athletes. I haven't heard back from them yet but if I don't get it I'll still be volunteering.
I'm likely to be in a back room away from the Olympic action if I get the job, but that won't matter, I really enjoy doing it."
Paul Dunn
Paul, 50, works for British Airways' HR Information Systems and lives in Wokingham. He and his family successfully applied for Paralympic athletics tickets after an unsuccessful attempt to buy Olympic tickets. He has also been accepted as a Games Maker volunteer at the Olympics.
"I've been confirmed as a Games Maker and have my first training up at Wembley Arena a week on Saturday 18 February. It was a nice feeling being selected - nice to be wanted.
I'll be helping out at Dorney Lake for the rowing - it's only 20 minutes up the M4 for me. I'd love to have been in the main arena, but realistically it'd take me a couple of hours to get there, and then doing a full day on top of that would have been a bit much.
I've got some other Games Maker training sessions coming up including a day in March at Hackney College, role training, plus going to Dorney as well, which will no doubt include health and safety stuff.
I haven't had to do any other preparation for the Paralympics but I'm still really excited about going. I've had notification from ticketing, saying look out for tickets arriving. Hopefully I'll have them soon.
It's already been a milestone year for me as it was my 50th birthday last week.
I had a quiet night in for my birthday, followed by about 25 relatives coming over for the weekend from all over the country. I feel like I've joined a new club!"