Germans jailed over UK terror offences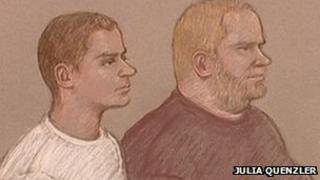 Two German nationals have been jailed by a judge at the Old Bailey after pleading guilty to possessing documents useful to terrorism.
Christian Emde, 28, and Robert Baum, 23, who are both converts to Islam from Solingen in Germany, will also be automatically deported from the UK.
They were arrested in July 2011 as they tried to enter the UK via Dover.
They had a computer and hard drive with material that has appeared in key trials linked to online radicalisation.
Judge Peter Rook described the material they had in the possession as "chilling reading".
'Extremist literature'
Emde admitted four counts of having documents that were likely to be useful for terrorism and was jailed for 16 months, minus 193 days he has already spent in custody.
Baum admitted one similar charge and was jailed for 12 months. The prosecution said his document was at the lower scale of extremist literature.
The men were found carrying 2,968 euros (£2,467) which Judge Rook said should be paid towards the prosecution costs.
The documents they were carrying were electronic copies of Inspire magazine, an English publication launched by al-Qaeda in the Arabian Peninsula (AQAP).
This off-shoot of the main group had been the power base for Anwar al-Awlaki, a US-Yemeni preacher who was killed last year.
The magazine was designed to appeal to Western English-speaking recruits to al-Qaeda and its articles are widely available and shared online.
Emde's articles included "How to make a bomb in the kitchen of your mom" which was eight pages of instructions on home-made explosive devices.
Another article detailed how to modify a car so that it could become the "ultimate moving machine" for an attack on the "enemies of Allah" in a city centre.
The article recommended attaching blades to a truck so that the driver could cause maximum carnage as quickly as possible. Baum's article was an ideological essay called 39 Ways to Participate in Jihad.
What is not clear is what the men were doing.
Studying Islam
Emde, who is unemployed, and Baum, a warehouseman, had originally planned to travel to Egypt - but when they discovered it would be too expensive, they changed their mind and headed to the UK.
Emde had a link to someone who had been banned from the UK and had arrived at Dover with a ticket to travel to Birmingham, bought by another man described only as "Mr Abdalla".
During extensive police interviews, Emde had said he was keen to understand all the arguments of Islam and that he had been studying extremism for two years.
Prosecutor Sarah Whitehouse said Emde did not appear to be planning any terrorism himself, but given the amount of material on his hard drive, he did have more than a "casual interest" in the subject. Germans jailed for terror offence
Ms Whitehouse said the material the men had was hosted on websites based in the US and nobody in Germany had, thus far, been prosecuted for having it in their possession.
Timothy Green, for Emde, told the Old Bailey that his client had become a Muslim in 2003 and that he had opposed the invasions of Afghanistan and Iraq. He had been the moderator of a website for people who shared his views.
At their first two appearances in court, the two men refused to stand. Both men said standing would be an act of worship that went against Islam.
But Mr Green said that Emde now regretted the offences and had had a "very difficult six months in the UK".
He spoke no English and had received no prison visits. No prison clothes could be found to fit him because of his large size, Mr Green said.
He had no desire to stay in this country any longer than he had to and wanted nothing more than to be sent back to Germany.
Mr Green added: "Mr Emde is not a terrorist. He was not going to pass the documents to anyone.
"The offence was committed by accident when he made the unexpected trip to this country."
Det Ch Supt Mark Warwick, from the South East Counter Terrorism Unit, said the case was heavy-going due to the large volume of material and the need to translate a great deal of it.
He said: "The documents we found included full instructions on how to make home-made explosives and how to shield explosives from detection by scanners and sniffer dogs."
"We also found guidance on how to demolish buildings using explosives.
"Possessing these kinds of materials are serious offences and we will investigate anyone who breaks the law in this way and ensure they are brought to justice."