London 2012: Olympics travel disruption 'inevitable'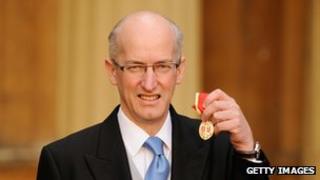 Disruption to London's transport system during the Olympics this summer is inevitable, Network Rail's chief executive Sir David Higgins has warned.
And, he said, the success of the Games was dependent on how well the authorities mitigate the problems.
His warning came days after the launch of a campaign urging people to change travel habits to reduce the strain on the transport network during the Games.
The mayor of London also rejects claims London 2012 will cause travel chaos.
In December, Boris Johnson said it was "complete and utter nonsense" to fear that London would be gridlocked during the summer.
'Bad things will happen'
He said warnings that the Olympics will bring transport chaos were like a Millennium Bug that would "never materialise".
And Transport Commissioner Peter Hendy said Transport for London's (TfL) twin objectives for London 2012 - to host a great Games and keep the capital and the UK moving - would be achieved as London was well-equipped to deal with the 3m more journeys expected on the busiest day of the Olympics.
But offering a "realistic" view, Sir David, who has experience in planning at four Olympic Games - three of those in an official capacity - said: "During the Games bad things will happen."
He said: "There is going to be track circuit failure, there will be overhead line breakages, there will be cable theft. Probably there will be suicides - there always are over a 60-day period, that's just going to happen unfortunately."
He said "the message to the public should be there are going to be disruptions". But, he added: "We shouldn't get excited about it, we shouldn't panic about it."
In preparation for the Games, Network Rail has already announced the suspension of all disruptive work, for almost three months during the summer, on rail routes serving Games' venues.
A Network Rail spokesperson said: "Incidents will happen but it's about how we respond and keep the travelling public informed.
"During the Games we will be working closely with TfL and the rest of the rail industry to minimise the impact of any disruption and let the Games be about sport, not transport."
Get Ahead of the Games, a campaign to raise awareness of Olympic transport issues at what has being dubbed the "first public transport Games", was launched on 30 January.
A multi-media advertising campaign will communicate directly with the travelling public, offering tips, travel information and advice on how to reduce, reroute, retime or remode their journeys to avoid the hotspots.
Boris Johnson has also urged members of the International Olympic Committee to forego the dedicated Games Lanes available to them during the Olympics and to get on the Jubilee Line - "because they'll love it".