David Cameron to make official US visit - White House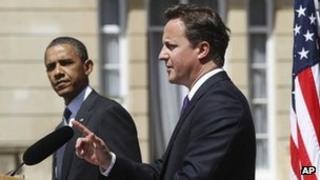 Prime Minister David Cameron will make an official visit to the US next month, the White House has said.
Mr Cameron and his wife Samantha will be in the US on 13-14 March.
A spokesman said President Barack Obama would welcome Mr Cameron to "highlight the fundamental importance of the US-UK special relationship".
The two leaders will discuss the forthcoming Nato and G8 summits, as well as developments in Afghanistan and the Middle East.
'Liberties and values'
The White House spokesman said: "The visit will highlight the fundamental importance of the US-UK special relationship and the depth of the friendship between the American people and the people of the United Kingdom, as well as the strong personal bond that has developed between the two leaders and their families.
"It will also be an opportunity to recall the valour and sacrifice of the US and British armed forces and their long tradition of standing shoulder to shoulder beside each other in defence of our liberties and shared values.
"The visit will underscore the strength of our economic links, which contribute to millions of jobs on both sides of the Atlantic."
The White House said issues such as Afghanistan, the Middle East, Iran, human rights and global economic stability and growth would be on the agenda.
"They will also review progress in the implementation of the various initiatives launched during the president's state visit to the UK last year," said the spokesman.
Troop withdrawal
Downing Street confirmed on Twitter that Mr Cameron and his wife had accepted the invitation to visit the White House.
A message from the official @Number10gov account said: "The Prime Minister and Mrs Cameron have accepted invitation from @whitehouse for official visit the US on 13th & 14th March."
Downing Street said on Thursday that British troops would step back from their lead combat role in Afghanistan by the end of 2013.
Mr Cameron's spokesman said UK and international troops would offer a "supporting combat role" in 2014.
The prime minister had previously said the UK's military role in Afghanistan would be completed by the end of that year.
Mr Obama became the first US president to address members of both Houses of Parliament in Westminster Hall when he and wife Michelle were on a two-day state visit to the UK in May last year.
Mr Cameron made his first official visit to the US as prime minister in July 2010.