London 2012: Games Makers attend Wembley training event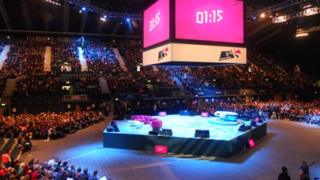 Celebrities and athletes have turned up at Wembley Arena to welcome London 2012's Olympic volunteer army.
Around 70,000 people are being recruited as Games Maker volunteers - helping visitors and athletes in London and across the UK during London 2012.
This weekend around 40,000 volunteers and new London 2012 staff are finding out about their tasks.
Comedian Eddie Izzard and Olympic rowing medallist Sarah Winckless launched the event.
Former athlete and TV presenter Jonathan Edwards, London 2012 organisers Locog chairman Seb Coe and chief executive Paul Deighton joined 8,000 Games Makers who turned up to attend the first session amid freezing weather conditions.
"It goes to show how excited people are about the Games that they have come out here in -8C to queue to get in," Winckless said.
"The most important thing is that they are key to making it a fantastic success.
"So I thought I would come here and volunteer myself to show how important these guys are."
With six months to go before the Games, Lord Coe said the volunteers did not need to be motivated any more than they already are.
"This is the elite who have gone through - they want to be here," he said.
"But I would like to say thank you. We could not do it without you."
Lord Coe said that the Games are on time and in budget, but that there was no room for complacency.
"Do not for one minute think I am remotely complacent because I know we will need every minute, of every day - but we're in good shape."
London 2012 organiser Locog is calling it the biggest volunteer campaign since World War II with Games Makers charged with "making London 2012 happen".
Games Makers travelled from all over the UK for the event. Some went to meet other volunteers they had come into contact with on Facebook and Twitter, even though they were not attending the sessions.
Parking issues
But there were reports of train delays and local traffic congestion and some Games Makers reported they had problems getting to the venue.
Colin Foster, 43, from Gerrards Cross in Buckinghamshire said it took him two hours to drive the eight miles to the Arena. When he got there he then had to pay £22 to park nearby.
"I think it's a bit steep when people are volunteering. We're doing our bit giving up time and energy so to be charged is rather excessive."
Locog said it was surprised to hear of any problems, as they only knew of 100 people who had not attended.
"The venue was completely packed and we have had very few no shows," a spokesperson said.
"However, we're very sorry that some people had problems with trains. They know how to contact us and we will accommodate them at one of the other session we have here in London."
Making friends
Most Games Makers enjoyed the sessions, cheering, clapping and making friends.
"I'm making a weekend of it," volunteer Samantha Kenyon, 25, from Manchester said.
"It's going to be such a good experience. I'll get to meet new friends and every step will get more and more exciting."
Training for Games Makers is split into three sessions. The first is the orientation event where volunteers will get an insight into the history of the Games, sports and venues.
The next step is role-specific sessions where people will learn all they need to carry out their allotted tasks.
Finally, at the venue-specific training session people will go to the venue they will be stationed at, learn about emergency procedures and meet other volunteers they will be working with.
Cinema viewings
Locog is still in the process of interviewing Games Makers with final offers expected to be made by the end of April.
Those who miss the February training sessions will be able to watch recordings of the sessions at cinemas in London.
Six regional orientation sessions will be held in March for Games Makers who have been offered roles at venues outside of London in Weymouth and Portland, Cardiff, Coventry, Newcastle, Manchester and Glasgow.
More than 200,000 people applied to be Games Makers, with 100,000 being interviewed.