Another cold night for UK as temperatures plunge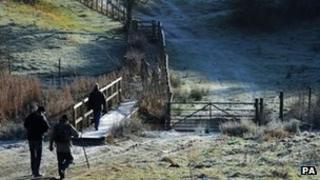 The UK is set for another bitterly cold night with temperatures possibly reaching -12C, forecasters have said.
On Thursday night Sennybridge in south Wales recorded -11.3C (11.7F) and the Met Office has severe weather warnings in place until Sunday.
It has warned that heavy snow could fall across much of England and Wales, with southern and central areas likely to be the worst hit.
Sport has been hit by the weather, with several Football League matches off.
Two race meetings - at Sandown Park and Wetherby - have also been called off due to frozen tracks.
The AA says it has been receiving 1,800 calls an hour from motorists.
Snow is forecast for much of the country on Saturday, with central and eastern parts of England expecting 5-10cm (up to 4in).
BBC weather forecaster Alex Deakin said: "It's from tomorrow [Saturday] afternoon, and through the evening, overnight into Sunday, we are expecting some heavy snowfall across the central and eastern counties of England.
"Certainly a few centimetres, possible as much as 10cm in some places. And, yes, that is expected to cause a few problems."
He said the cold conditions were likely to continue into the early part of next week.
Areas expected to record snowfall of up to 15cm include Cumbria, Lincolnshire, East Anglia, North Yorkshire and the Peak District.
The Met Office has issued amber cold weather alerts for a large swathe of the country.
This alerts organisations, including Age UK, to the health risks to elderly and ill people. It will remain in place at least until Sunday.
The temperature at Sennybridge was a record low for this winter and similar temperatures were recorded in the villages of Benson in Oxfordshire and Braemar in Aberdeenshire.
Danger for elderly
Michelle Mitchell, director general of the charity Age UK, said: "It may have been relatively mild so far this year but the winter can be a dangerous time for older people. Many people believe that the only risk of winter weather is getting a cold but the risk is much greater.
"Low temperatures raise blood pressure which puts people at a greater risk of heart attacks and strokes and well as increasing the likelihood and severity of flu and other respiratory problems."
She urged people to contact Age UK advice line on 0800 1696565 if they were worried about their energy bills during the cold snap.
An AA spokesman said it was estimating a total of 19,000 callouts on Friday, up from 9,500 on an ordinary day.
He told the BBC: "Most of it is people who can't get their cars started because of flat batteries. Sometimes people blow a fuse by trying to get their wipers to move when they're stuck to the windscreen."
Asked whether putting blankets around batteries was advised he said: "That is more appropriate for older cars. We don't advise that.
"Before starting the car you should make sure the lights, radio, heated windscreen are all switched off, then dip the clutch when you turn the ignition. That means all the power from the battery will go to the starter motor."
In London, a new shelter for rough sleepers has opened, designed to open whenever three consecutive nights of freezing temperatures are predicted.
Saturday's League One football matches at Bournemouth, Bury, Colchester, Notts County, Oldham and Preston have all been postponed.
Aldershot, Cheltenham, Gillingham, Morecambe, Oxford, Rotherham and Shrewsbury in League Two are also off.
Several other games face pitch inspections on Saturday morning.
Fruit boost
In December, the Local Government Association (LGA) said councils in England and Wales were "better prepared than ever" to deal with the winter weather.
An LGA survey found that town halls had stockpiled 1.4 million tonnes of salt - more than was used during the whole of last winter.
Meanwhile animal charity Blue Cross is warning pet owners to keep cats indoors, away from gritter salt and antifreeze which can be fatal for them.
Chief vet Mark Bossley said: "Salt is poisonous to cats and it can easily get on their paws or fur and be swallowed when they groom themselves. Watch out for antifreeze too, cats seem to like the taste but it is highly toxic to them."
The cold weather could be good news for fruit growers.
The Royal Horticultural Society's chief horticultural adviser, Guy Barter, said: "Looking at the long-range forecast, it looks like we are now going to have the right conditions to help fruit-tree buds develop.
"We had been worried that the mild winter so far might cause problems to fruit development. Most hardy plants need a period of chilling during winter in order to encourage timely flowering."
Many parts of Europe have been considerably worse off, with a big freeze already claiming more than 100 lives in the Ukraine alone.
In Italy, weather experts said it was the coldest week for 27 years.
UK weather maps: click on Key and tabs for extra detail
The enhanced content on this page requires Javascript and Flash Player 9
Map Key
Land
Cloud
Lakes, Rivers & Sea
Fog
Light
Heavy
Frost
Light
Heavy
Pressure Fronts
Cold
Warm
Occluded
Rain
Light
Heavy
Extreme
Snow
Light
Heavy
Temperature tab only
Temperature (°C)
More details from BBC Weather