UK shivers in -11C cold snap amid forecasts of snow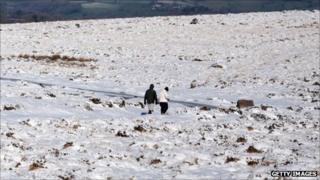 Temperatures in parts of the UK plunged to -11C (12F) overnight as forecasters warned of a bitterly cold spell and snow showers over the weekend.
The AA said it was receiving 1,800 calls an hour from motorists.
The Met Office has severe weather warnings in place until Sunday.
Icy conditions are expected in parts of England on Friday with snow forecast in Wales, south-east Scotland and large swathes of England on Saturday.
The villages of Benson in Oxfordshire and Braemar in Aberdeenshire saw some of the coldest temperatures this winter during the night.
The BBC's weather presenter Carol Kirkwood said Friday would be cold, frosty and sunny with a few wintry flurries in Kent and the Thames Estuary, and temperatures no higher than 3C (37F).
By Saturday, central and eastern parts of England could expect 5-10cm (up to 4in) of snow, she said.
She said it would settle until Sunday morning in eastern parts but would leave behind the risk of ice as it thawed in other parts.
Michelle Mitchell, director general of the charity Age UK, said: "It may have been relatively mild so far this year but the winter can be a dangerous time for older people. Many people believe that the only risk of winter weather is getting a cold but the risk is much greater.
Rough sleepers
"Low temperatures raise blood pressure which puts people at a greater risk of heart attacks and strokes and well as increasing the likelihood and severity of flu and other respiratory problems."
She urged people to contact Age UK advice line on 0800 1696565 if they were worried about their energy bills during the cold snap.
An AA spokesman said it was estimating a total of 19,000 callouts on Friday, up from 9,500 on an ordinary day.
He told the BBC: "Most of it is people who can't get their cars started because of flat batteries. Sometimes people blow a fuse by trying to get their wipers to move when they're stuck to the windscreen."
Asked whether putting blankets around batteries was advised he said: "That is more appropriate for older cars. We don't advise that.
"Before starting the car you should make sure the lights, radio, heated windscreen are all switched off, then dip the clutch when you turn the ignition. That means all the power from the battery will go to the starter motor."
The Met Office has issued its first country-wide Level 3 cold weather alert of the winter, its second most serious warning.
This alerts organisations, including Age UK, to the health risks to elderly and ill people. It will remain in place at least until Sunday.
In London, a new shelter for rough sleepers has opened, designed to open whenever three consecutive nights of freezing temperatures are predicted.
In Wales, Thursday's cold weather caused a meeting at Chepstow Racecourse to be abandoned due to a frozen track.
Villagers cut off
Meanwhile animal charity Blue Cross is warning pet owners to keep cats indoors, away from gritter salt and antifreeze which can be fatal for them.
Chief vet Mark Bossley said: "Salt is poisonous to cats and it can easily get on their paws or fur and be swallowed when they groom themselves. Watch out for antifreeze too, cats seem to like the taste but it is highly toxic to them."
Many parts of Europe have been considerably worse off, with a big freeze already claiming more than 130 lives.
Heavy snow has left at least 11,000 villagers cut off in remote areas of Serbia, while the Ukraine, where temperatures dropped to -33C (-27F) overnight, has seen the highest number of fatalities. Over a 24-hour period, as many as 20 people died.
In Italy, weather experts said it was the coldest week for 27 years.
The enhanced content on this page requires Javascript and Flash Player 9
Map Key
Land
Cloud
Lakes, Rivers & Sea
Fog
Light
Heavy
Frost
Light
Heavy
Pressure Fronts
Cold
Warm
Occluded
Rain
Light
Heavy
Extreme
Snow
Light
Heavy
Temperature tab only
Temperature (°C)
More details from BBC Weather