Newspaper review: Chris Huhne charge decision hits headlines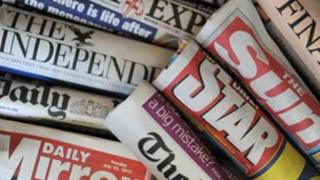 "High noon for Huhne" says the Sun, as the energy secretary prepares to learn whether he will face charges over claims he lied to avoid a driving ban.
"Crunch Day for Chris Huhne" is the headline chosen by the Daily Mail, while the Daily Telegraph opts for "D-Day for Huhne"..
The Lib Dem will declare his innocence but resign his cabinet post if charged, according to the Guardian..
The Financial Times says charges would force a reluctant PM into a reshuffle.
Prince's mission
There's plenty of coverage of Argentina's angry response to Prince William's arrival in the Falklands.
The Daily Mirror describes Argentina's objections as "increasingly shrill".
His posting is further inflaming the already testy diplomatic relations between the UK and Argentina, the Independent considers..
But the Sun believes Argentina's leaders seized on the prince's arrival to crank up tensions ahead of the 30th anniversary of the Falklands War.
Snow warning
The Daily Express leads with a warning that a killer winter blast is about to hit Britain.
Health officials are on standby as temperatures are due to plunge to -12C (32F) on Friday, with four inches of snow expected at the weekend.
A cold weather warning in place for the whole of England has alerted councils and voluntary groups to check on the elderly, the Guardian explains..
However, the Times points out mainland Europe is suffering far worse.
'No whining'
The Daily Telegraph issues advice for avid Twitter users, publishing nine tips devised by US researchers to avoid being a Twitter bore.
The rules include keeping tweets short, not repeating old news and not whining.
The final piece of advice is for celebrities - the tiniest detail of your routine is not interesting because you are famous.
People want to read professional insights, not what you like in a sandwich, it concludes.