Falkland Islanders' feeling of confidence about future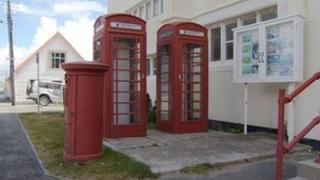 With renewed tensions between the UK and Argentina over the sovereignty of the Falklands, the BBC's Allan Little finds residents more excited by the potential discovery of oil rather than worried about their neighbour to the west.
Stanley is a quiet, unexcitable place, of fish and chips and red pillar boxes, seaside gift shops and young mothers pushing baby buggies defiantly into a gale-force wind.
It could be Eastbourne in a hurricane. And it is not - emphatically not - gripped by panic. No-one here expects another invasion.
"I don't think the Falkland Islanders believe the Argentinians will come back in a military sense," said Lisa Watson, editor of the local paper, the Penguin News.
"But they constantly undermine us. The British government has been strong and that gives us hope."
There is an immense confidence here. The economy is growing. The population is growing.
Falkland flagged ships may now be banned from many South American ports but Argentina's attempts to rally Latin America in support of its claim to the islands has had mixed results.
There is no trade embargo. You can still take a scheduled flight from the islands to Santiago in Chile.
"What's been encouraging," said the islands' governor, British diplomat Nigel Hayward, "is that while Argentina has put an immense amount of pressure on other countries, they seem willing to sign up to symbolic things like flags, but what they're not prepared to sign up to is any kind of blockade on trade and that's encouraging to the islanders as well."
Incalculable benefits
And now there is oil exploration. The super rig Lief Erikson has just been towed into water south of the islands.
One oil field to the north is now known to contain 350 million barrels. The potential benefits - to a population of 2,500 - are incalculable.
On a blowy Stanley quayside, I met Stephen Luxton, director of mineral resources for the Falkland Islands government.
"It's fantastic," he told me. "The last two years have seen an excellent drilling programme. 2012 is a very exciting year for us, possibly the most interesting year."
Argentina sees this exploration as illegal. Oil has upped the ante, further stoking Argentine fury. It is hard to find anyone here who cares much about Argentine sensibilities.
"If they [the Argentines] feel it's a provocation then that's up to them," said Mr Luxton, "but the UK government has no doubt about our rights. We are British. The oil exploration around the Falklands is not really an issue that is any of their business in our view."
'Different position'
This confidence is born of many things. Britain's military presence here is one. The Royal Navy this week sent the type 45 destroyer HMS Dauntless to the South Atlantic.
It is one of the newest and most developed warships in the British fleet.
Brigadier Bill Aldridge told me there was no risk of an invasion attempt by Argentina.
"We're in a very different position to 30 years ago," he said, "but my mission is to deter any military aggression to these islands and it's only if that fails should I need to defend this and I've got the capabilities to do that."
For Argentina, for all its political hostility, is no longer what it was. Its transition - from dictatorship to democracy - has helped transform the fortunes of these islands.
Change in Argentina has, paradoxically, helped keep the Falkland Islands as British as fish and chips.