London 2012: Call to holiday in UK and watch Olympics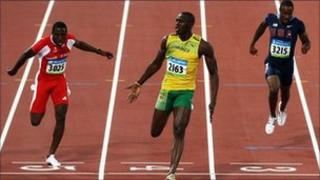 Holiday at home and watch the 2012 Olympics will be the message to people in the UK in a TV advertising campaign.
A number of celebrities will endorse the message: "There's so much happening in Britain in 2012, why on earth would you want to go abroad!".
The £4m government-funded campaign will also highlight the Cultural Olympiad, the Diamond Jubilee and the torch relay as reasons not to fly abroad this year.
There will also be a website offering discounted offers of 20.12% or better.
Businesses across the UK have been urged to sign up to the scheme, which goes live next month and offers discounts on accommodation, meals, and other experiences.
'Unprecedented opportunity'
The TV adverts will be aired from 8 March and feature a number of celebrities, whose names have yet to be revealed.
A spokeswoman for tourism body Visit England, which is heading the campaign, said it was its largest domestic tourism campaign to date.
She said the message is that there has never been a better time to take a break at home and while the spotlight is on London, there are many events and reasons to celebrate throughout the whole country.
Meanwhile Visit England's chief executive, James Berresford, said: "2012 offers the tourism industry an unprecedented opportunity to grow domestic tourism by inspiring Britons to take a holiday at home."
Urging people to find out more about the campaign, he said: "Any tourism business can participate and the time to do that is now."
Jeremy Hunt, Secretary of State for Culture, Olympics, Media and Sport, backed the 20.12% discount scheme while speaking at the British Museum in London.
He said: "The inevitable moans and groans in the run up to an Olympics must not cloud the scale of the opportunity - including our biggest ever tourism marketing campaign to make sure we get a lasting benefit from being in the global spotlight."