Leveson to recall Times editor over hacking claims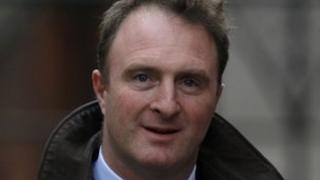 The editor of the Times, James Harding, is to be recalled to the Leveson Inquiry after evidence the newspaper had used email hacking.
Earlier, it emerged the newspaper is being investigated by the Metropolitan Police over email hacking claims.
It comes after the inquiry was told that a Times journalist hacked the emails of a police blogger, NightJack.
Labour MP Tom Watson said the Met police had confirmed to him the paper was being investigated.
The Met said officers from Operation Tuleta, the force's investigation into computer hacking, have contacted Mr Watson.
It is understood that Sun editor Dominic Mohan is also to be recalled to the Leveson Inquiry into press ethics.
The Times, owned by News International, named Lancashire detective Richard Horton as the author of the NightJack blog in June 2009 after the High Court refused to grant him anonymity.
Mr Harding previously told the Leveson Inquiry that one of his reporters - named as Patrick Foster - was given a formal written warning for professional misconduct for gaining unauthorised access to Mr Horton's emails.
Investigation
In a further letter to the inquiry, Mr Harding said: "When the reporter informed his managers that, in the course of his investigation, he had on his own initiative sought unauthorised access to an email account, he was told that if he wanted to pursue the story he had to use legitimate means to do so.
"He did, identifying the person at the heart of the story using his own sources and information publicly available on the internet.
"On that basis we made the case in the High Court that the newspaper should be allowed to publish in the public interest. After the judge ruled that we could publish in the public interest, we did."
Mr Foster has since left the newspaper.
On Thursday, Mr Watson, a member of the Culture, Media and Sport Committee, said on Twitter: "The Met police have confirmed to me they are investigating [Rupert Murdoch's] newspaper The Times over email hacking."
He had previously written to the police on 23 January to ask whether they would investigate the matter after the newspaper's admission that a reporter had tried to access a private account.
Mr Watson has now published a letter sent to him from Det Supt John Levett on his website, which said: "I write to reassure you that the concerns raised within your letters are under investigation and officers from Operation Tuleta are dealing directly with the victim."
A spokeswoman for the Times declined to comment.