Afghanistan withdrawal plan outlined by Downing Street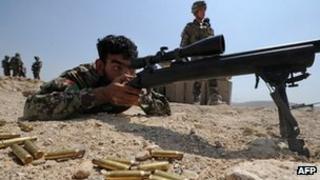 Afghan forces will take over lead security responsibility in all parts of Afghanistan by the end of next year, Downing Street has said.
David Cameron's spokesman said UK and international troops would offer a "supporting combat role" in 2014.
The British PM had previously said the UK's military role in Afghanistan would be completed by the end of that year.
This latest announcement provides more detail on how the transition to Afghan authorities will take place.
It comes after statements by both the US and France suggesting the International Security Assistance Force (Isaf) coalition - which includes UK troops - will make a transition out of combat next year.
Mr Cameron has also previously said that the UK would be able to reduce its force levels by 500 to 9,000 this year.
Downing Street denied that the move to hand over authority to the Afghans amounted to an acceleration in the handover of control to local forces, saying that it was still in line with a strategy agreed at the Nato summit in Lisbon in 2010.
Mr Cameron's spokesman said: "The agreed Isaf strategy hasn't changed.
"The strategy envisages progressively transitioning areas of the country. Within that strategy, it is envisaged that Afghan forces should have the lead security responsibility across the country by the end of 2013, and that Isaf forces will increasingly move from a combat role to a training role.
"They will be operating in 2014 in a combat role, but it will be a supporting role. It is anticipated that Afghan forces should have the lead responsibility by the end of 2013."
Meanwhile, US Defense Secretary Leon Panetta has said that American troops would make a transition from a combat role to a training, advisory and assistance role "hopefully by the mid- to later part of 2013".
And French President Nicolas Sarkozy has also announced an accelerated troop exit for France, which is the fourth-largest contributor of troops in Afghanistan.