Leveson Inquiry: Investigators call for licensing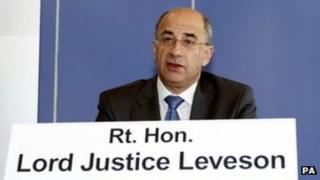 Private investigators have told the inquiry into media ethics they want a statutory-backed licensing system.
But the three representatives of trade bodies told the Leveson Inquiry that they wanted to remain self-regulated.
The head of the Security Industry Authority said it had always intended to include private investigations in its remit but that it would take time.
The inquiry earlier heard from mobile phone company security chiefs about steps to protect voicemails.
The head of the Association of British Investigators (ABI), Tony Imossi, said it had applied for a royal charter to form a Chartered Institute of Investigators and it also wanted to launch an academy providing accredited training.
He said the ABI had a code of ethics and vetted its members. Potential members had to submit to criminal records checks, a competency test and hold a policy of professional indemnity insurance.
He said that his 500-member association was "very, very sensitive" to how members of the public viewed it and took complaints seriously.
"We do investigate to the hilt and we will apply such penalties as we're able to through our bylaws. Self-regulation works for us - for my association," Mr Imossi said.
Institute of Professional Investigators (IPI) principal David Palmer said "our preference at the moment would be licensing by regulatory authority".
"Self-regulation without any statutory backing would be, I think, ineffective," he said.
Profession in 'disarray'
Vice-chairman of the World Association of Professional Investigators (Wapi), Tony Smith, said Wapi was also in favour of regulation. "This profession is in disarray, this industry is so fragmented," he said. "It needs regulation - via the SIA would be ideal."
Mr Palmer said investigators should be licensed but self-regulated.
Security Industry Authority (SIA) chief executive Bill Butler told Lord Justice Leveson that regulation was generally viewed as a good thing. "I think it's difficult to find anybody that doesn't think this is a good thing and something that should happen."
"The intent has always been there, the willingness has always been there," he said.
Mr Butler said a number of issues had delayed regulation. He said that assumed the home secretary would not now want to move forward "without the benefits of the recommendations of this inquiry."
"My personal view is there is a willingness to move forward and to actually get private investigations into regulation. With the best will in the world that's not something that will happen quickly."
Mr Butler said it would take around 12 months before confirmation of any regulation and its introduction, working on the assumption that there were some 5,000 investigators in the UK. Accredited courses would need to be established, trainers trained and then people would need to be given the time to do the training and to register.
He said the prime focus would be on licensing businesses. It would be a regulatory offence to employ "either a company who is not licensed or an individual who is not registered".
Lord Justice Leveson commented that his view was that regulation of the industry was needed. "I don't believe simply from the basis of what I've heard today that it could be a self-regulatory model given to the fractured nature of associations that are involved in it."
Phone security
Phone company representatives earlier detailed voicemail security systems.
Vodafone's head of security said it had issued default voicemail pins until 2001. Mark Hughes said that was "pretty much an industry standard at the time".
Businessman Steve Notts last year told the inquiry that he had informed Vodafone in 1999 of a possible system loophole. Mr Hughes said he was unsure why the company's system had not been changed sooner.
Mr Hughes said that the person who represented Vodafone at the time that Mr Notts said he had gone to the company with his concerns had since died.
He said he "simply cannot be sure" whether Mr Notts's revelations were behind the change to Vodafone's system.
Mr Hughes said an option to reset the default pin over the phone was withdrawn after revelations of "the criminality came out and we were aware of what the attack mechanisms were".
He said that as revelations of possible phone hacking began to emerge in 2006, customers began to call asking whether they had been victims. Mr Hughes said police "expressly told " Vodafone not to contact potential phone-hacking victims in case it prejudiced their investigation.
But he said that the company did inform its customers of measures they could take to increase their phone security.
"We were able to push out some communications - some general awareness communications - at the time."
Mr Hughes gave evidence alongside O2's Adrian Gorham and James Blendis, from Everything Everywhere, which owns Orange and T Mobile.
Mr Gorham said O2's default pin system was changed in 2005/06. Mr Blendis said T-Mobile changed its system in 2002, while Orange had never had a default pin.
All say their mobile networks now text pins to their customers' mobiles after asking them security questions. The representatives said their companies had also introduced specific training to deal with blagging techniques.
Mr Hughes said Vodafone believed 40 of its customers had been potential voicemail hacking victims, Mr Gorham said O2 thought around 40 of its customers had been while Mr Blendis put the figure at 45 for Orange and 71 for T-Mobile.
The Leveson Inquiry was set up by Prime Minister David Cameron in July 2011 amid new revelations of phone hacking at the now-closed News of the World newspaper.
The first phase is examining the practices and ethics of the media.
The second will focus on unlawful conduct by the press and the police's initial hacking investigation, only after a police investigation into phone hacking at the NoW is complete.